I have a little holiday treat to share today! Chelsea of Tidewater and Tulle shared some gorgeous wedding inspiration from her neck of the woods – and you can find my California Christmas inspiration on her
blog
! I'll let Chelsea fill you in on the inspiration behind her design, as well as some of her favorite holiday things to do in the Hampton Roads area!
_
Encompassing seven cities, Hampton Roads is America's First Region. We are rich with history, decked out with beaches touching the Atlantic Ocean and Chesapeake Bay, and blessed with a diverse population of residents from all over the world thanks to the heavy military influence.
Two of our cities inspired this inspiration board: Williamsburg and Virginia Beach. I grew up in Virginia Beach, and funny enough, I'm not a beach person by any means. I love the water, could do without the sand. But my heart has always been in Williamsburg; there's a reason why I was married in the 'Burg in December four years ago. Laden with colonial nuances and historical significance, Williamsburg knows how to do Christmas.Handmade wreaths and sprays adorn the buildings in Colonial Williamsburg– all made with natural elements such as dried fruits, oyster shells, berries, and wintry foliage. No inflatable snowmen or multi-colored twinkle lights here! There is a simple, organic beauty alive in this historic area.
And that's just the land influence! Here in Hampton Roads (also known by older generations as the Tidewater area), we are connected by bridge-tunnels, a nuisance to us drivers, but a unique feature in our region. We are either go over water or under it, so I wanted to make sure to tie in that watery feel to Christmas which is perfectly executed through Hamda Al Fahim's gorgeous sleeved dusty blue gown with those waves and waves of ruffles.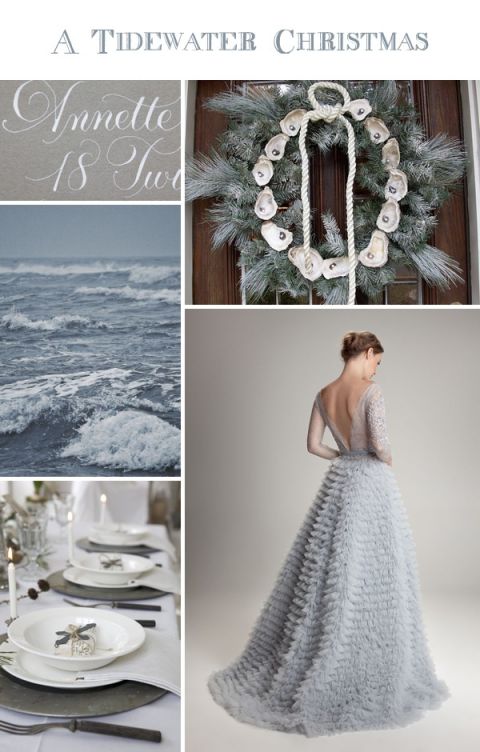 Holiday Fun in the Tidewater Area
Locally, we have some great holiday traditions from all sides of the 757 region. And since Ariana is sharing some great things about California traditions, I thought I'd share some from the East Coast!
Drive down the Virginia Beach Boardwalk, listen to Christmas tunes, and check out the lights! It's been around since I was in high school over a decade ago and is a big family favorite. And of course, there's a ton of beachy themes. Look for King Neptune to greet you!
A newer tradition, Christmas Town is my and my husband's favorite thing to do every year in Williamsburg. It just gets better each time! I mean, heck, when else can you really enjoy an amusement park at nighttime? It's expertly decorated with holiday-inspired shows and wintry treats all throughout the park. Bring that souvenir mug that you bought last year, too, because discounted refills on the hot cocoa!
Celebration in Lights:
Virginia's first drive-through holiday light event and operating for over 20 years, this Newport News tradition is a nice one to take the family and friends. Cozy up in the car and enjoy the new and familiar light displays all put on by Newport News' own Parks and Rec.
Visitors come from all over the country to see Colonial Williamsburg's holiday fireworks, live musical performances, and dozens of other weekend events. It's a huge crowd and people plan years in advance, but if you love the 18th century and some good old fashioned holiday beauty, this is not to be missed. (And all the wreaths and holiday sprays are new every year!) Many thanks to Ariana for letting me share some southeastern Virginia love with the West Coast! 🙂 Come and visit anytime, and we'll show you some friendly southern hospitality!
– Chelsea
_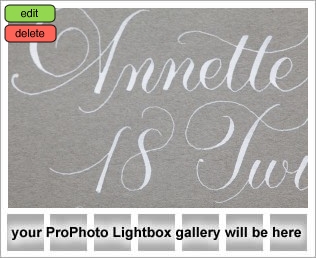 Photo Credits:
Calligraphy by Ephemera Press | Ocean – Photographer Unknown via Tumblr | Holiday Place Setting via Villa Huvudtsa Interior | Shell Wreath via Sally Lee by the Sea | Gray Ruffled Gown by Hamda al Fahim