Happy Fourth of July! And to my non-American readers, happy Friday (that's worth celebrating too)! With a month that includes our Independence Day, Canada Day, and Bastille Day, you're bound to see a lot of red, white, and blue wedding inspiration – I shared my French Country board on Wednesday and a charming rustic Americana engagement yesterday! – and I have fallen head over heels with some fabulous, patriotic inspiration from my fellow wedding bloggers!
One of the things I love the most about creating inspiration boards is that no two will ever be quite the same. Every board designer has different influences and inspiration and we all love to put our own spin on our boards. I've always wanted to do an inspiration board challenge of sorts with some of my bloggy friends and have everyone create their own design based on one concept or central image – we'd all come up with something completely unique, just like today's gorgeous spins on a Fourth of July wedding!
Dreamy, Sophisticated Shades
I truly love this sophisticated take on a patriotic color scheme from Fly Away Bride! The talented ladies at at FAB (pretty accurate acronym, huh?) put together this rich and luxurious palette. As befits a destination wedding blog, they were inspired by a location that held meaning – in this case a truly stunning lakeside New Zealand shoot contributed to the dreamy shades in their board.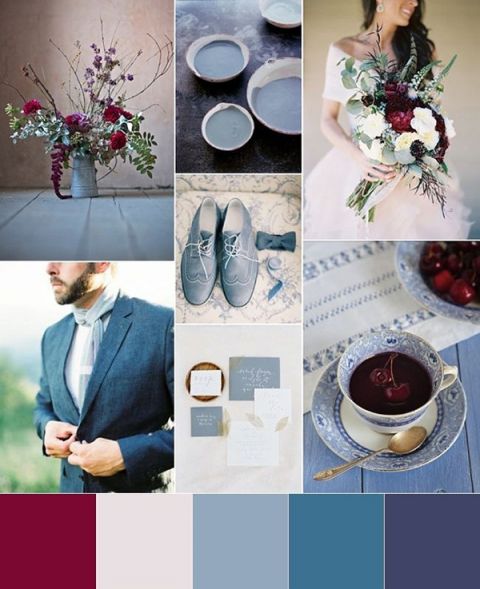 Sophisticated Cherry, Cream and Powder Blue Wedding | Fly Away Bride
Silver and Sparklers!
The wonderful Chelsea of Tidewater and Tulle was inspired by her hometown's phenomenal fireworks celebration, a mainstay of the Hampton Roads area that's the focus on her blog. She added the dazzle of silver sequins and sparklers to her board to echo the brilliant star bursts of fireworks! (I'm so proud to say that her first-ever inspiration board made its debut right here and there's another of her stunning boards to look forward to later this month!)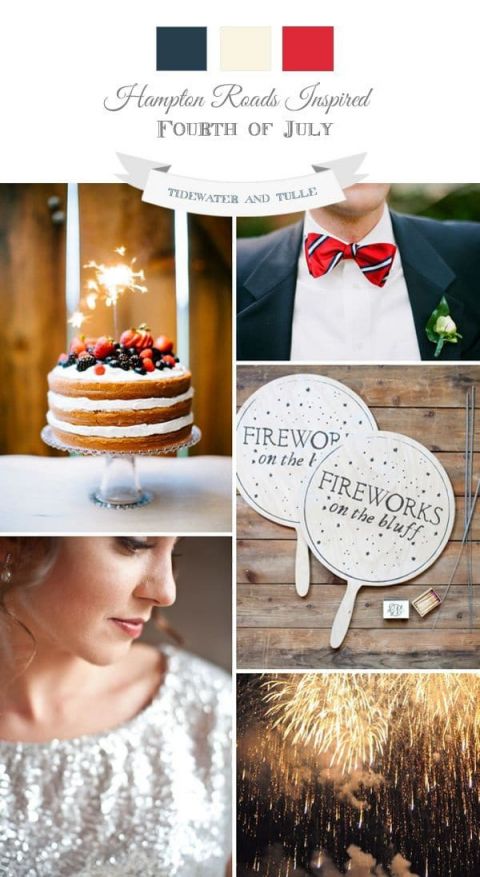 Fourth of July Sparkler Wedding Inspiration | Tidewater and Tulle
Berry Chic
When your blog is called Chic Vintage Brides, you have a certain image to keep in mind with your boards and I think it's safe to say that this lovely midnight blue and berry red board nailed it! Designer Amy lives in New Zealand so while she isn't currently barbecuing in the sun (maybe she is, I've never been to New Zealand, but this post is seriously influencing me to go), she kept things seasonal for the Southern Hemisphere with this romantic, wintery palette!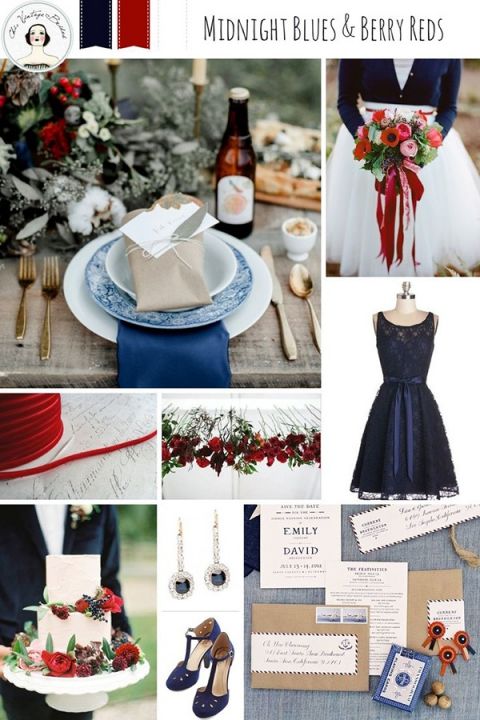 Vintage Romance
Sara of Burnett's Boards put a lovely, signature spin on a patriotic palette with dusky blue and a rich, velvety red. Her fabulous eye made the styling of the board the main focus, with pops of the lovely colors to tie rich vintage details together! This board is a part of her Facebook Exclusive series, so you can find it here!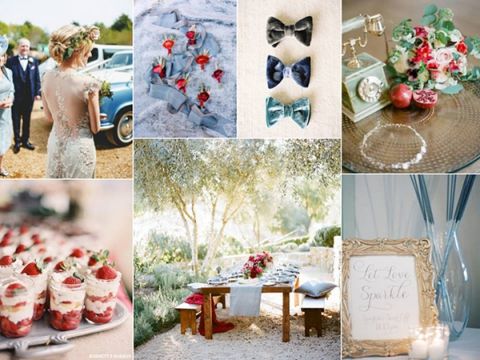 Nautical Romance
Tamika of Bajan Wed may not have created this preppy red, cream, and Caribbean blue board for the Fourth of July, but I think I'll be forgiven for including it when you see how gorgeous it is! Tamika's posts are usually influenced by her sure-to-be stunning tropical surroundings, but always infused with her inherently elegant style. This particular color combination is a personal favorite of mine, and there was no way I could resist sharing it!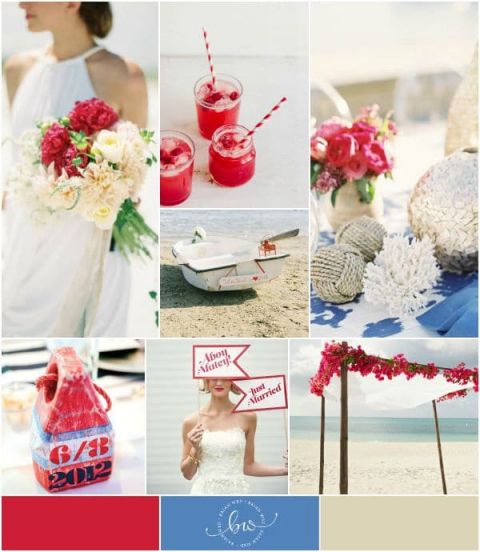 Nautical Romance – Preppy Red, White, and Blue Wedding | Bajan Wed