Planning to elope at City Hall? Aiza Fine Art Photography  shows how to do it in stunning style, even if you keep your wedding day plans simple and sweet! These stunning portraits at San Francisco City Hall are a beautiful testament to the power of a couple in love – and a few key wedding pros in your team to give even the most intimate elopement a perfect polish!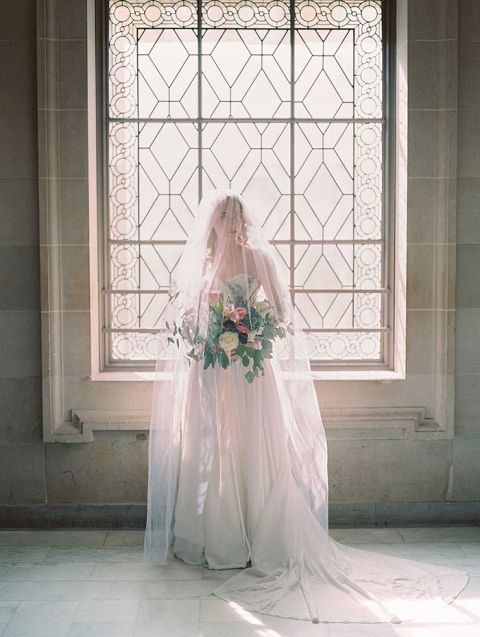 IF you are planning to keep the details and decor minimal on your wedding, having a few personal accents can help ensure that your day – and your photos – still have that momentous, 'once in a lifetime' feel! For this beautiful portrait session in the Rotunda at San Francisco City Hall, Aiza Fine Art Photography knew that the beautiful and luminous light would play a factor! Adding a sheer and simple veil to the bride's accessories allowed that light to create a magical portrait session that added to the exhilaration of being a bride, even if she wasn't walking down the aisle.
Little details, like keepsake vow notebooks and sweet ribbons, are a beautiful way to punctuate the little details that go into even a simple elopement. If you're planning a micro wedding or think you'll elope at City Hall, the intimacy of exchanging vows with no one but a witness can make it even more powerful to have the written memory of those promises to cherish.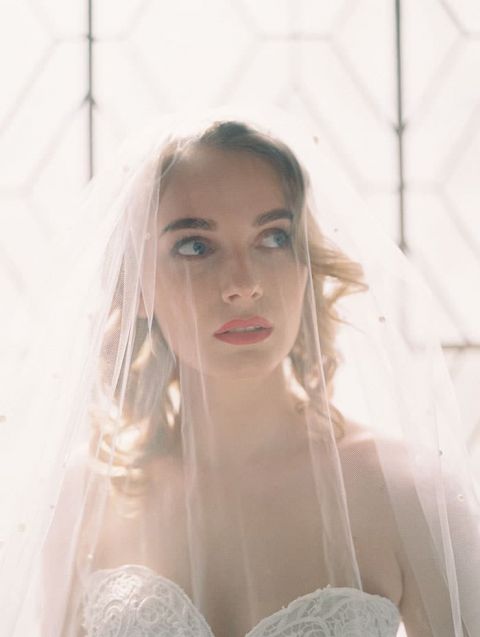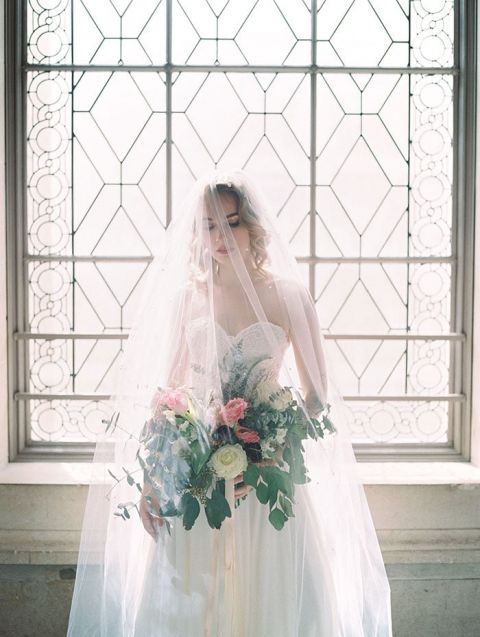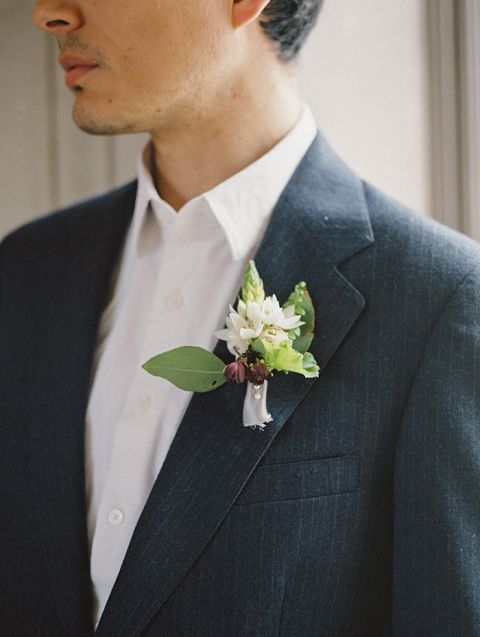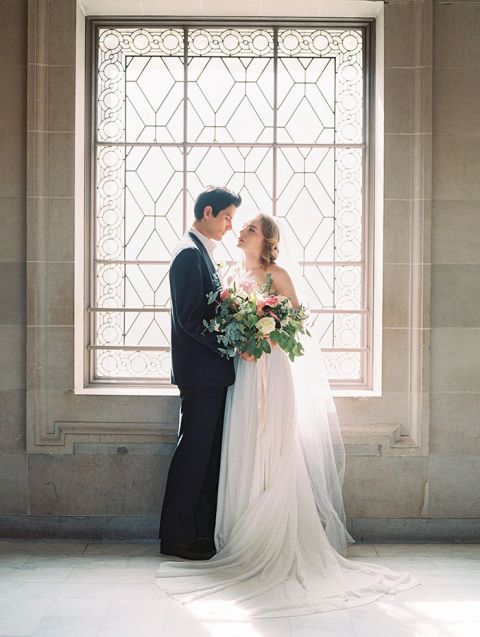 I personally believe, and this wonderful team agrees, that there's no reason to sacrifice bridal style for a City Hall elopement! One of the benefits of a non-traditional or intimate wedding is the chance to truly put the focus on being together as a couple and your individual values – as well as your personal style! Choosing wedding day attire that feels special to you is a wonderful way to amp up the importance and excitement of the day if you elope at City Hall.
For this beautiful vintage bride, a gown from Mirabilis Bay Area Bridal Store was the perfect choice! The sheer bodice layered with Alencon lace added beautiful detail to the fine art wedding photos, and the skirt moved beautifully in every portrait!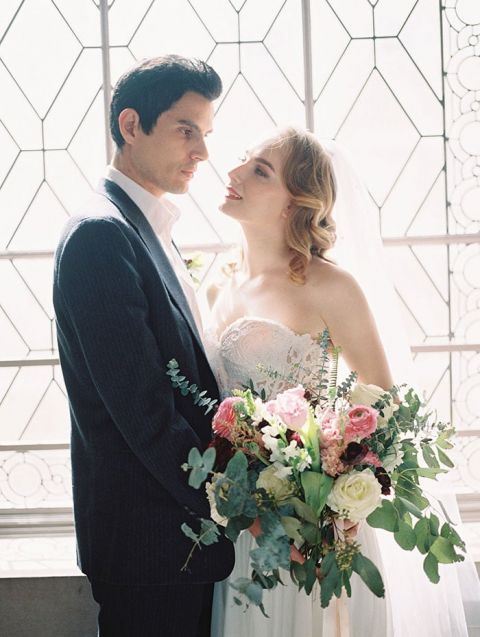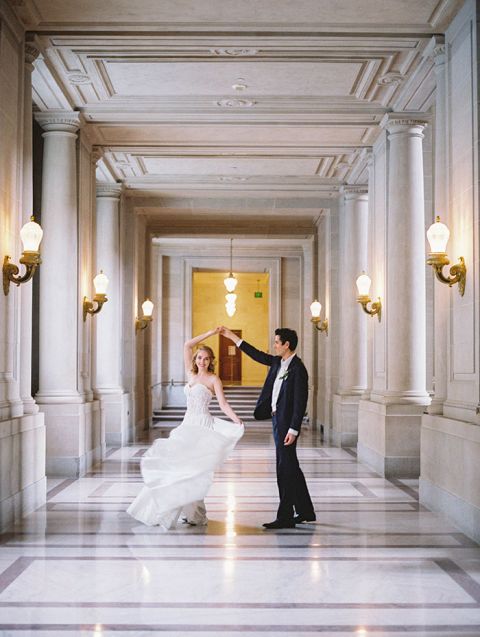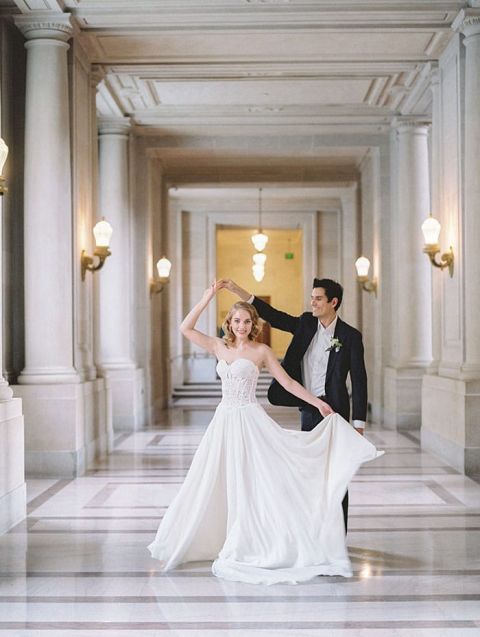 One of the biggest benefits of a micro wedding is the time for pictures! The timeline is considerably less rushed, putting the focus on intimacy and memories rather than sticking to a schedule. It offers a chance for the newlyweds to indulge in a romantic photo session, capturing moment after moment of the happiest day of their lives!
With that in mind, the must have wedding details for a City Hall elopement come down to what's important to see in your photos! If you want to focus on romantic portraits, prioritize attire and beauty to ensure you love the look in every shot. Hair and makeup artist Audra Langley styled the bride's perfect vintage look to make the most of the gorgeous portraits – classic 1940's inspired loose curls worked beautifully with the flow of the A-line dress and felt less formal than an updo, while playing beautifully off of the deep red lip!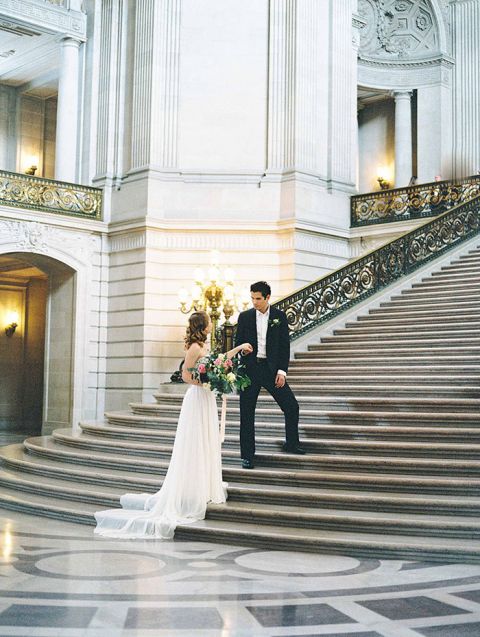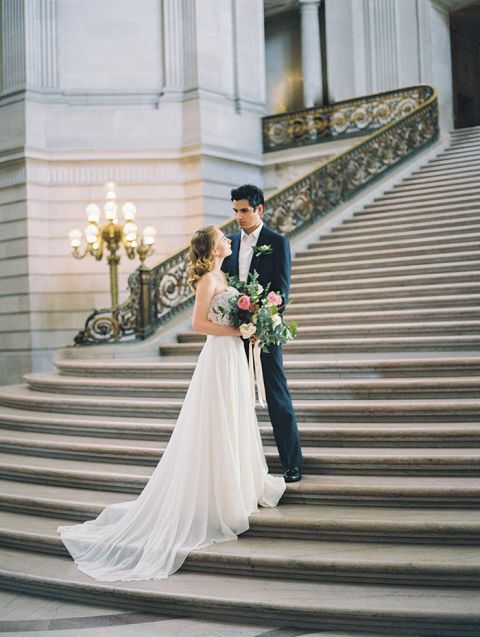 Scout out portrait locations ahead of your elopement! San Francisco City Hall offers countless breathtaking backdrops in the rotunda, with the sweeping stairs that look as though they came straight out of a fairy tale. No matter what your elopement venue looks like, consider the location from a photographer's point of view, identifying colorful walls, decorative grillwork, blooming greenery, or other areas that can provide a beautiful place to shoot.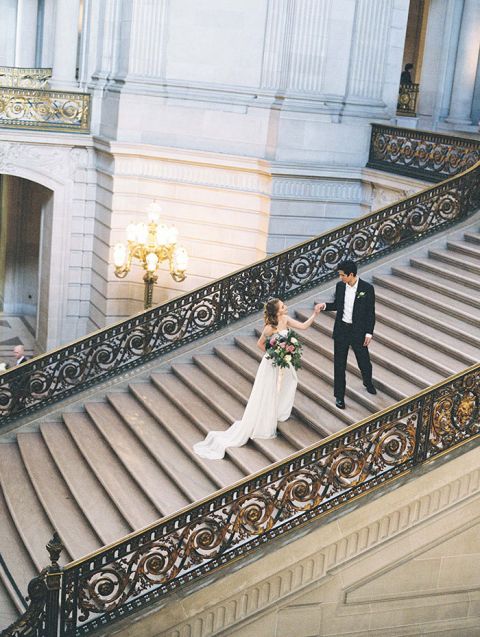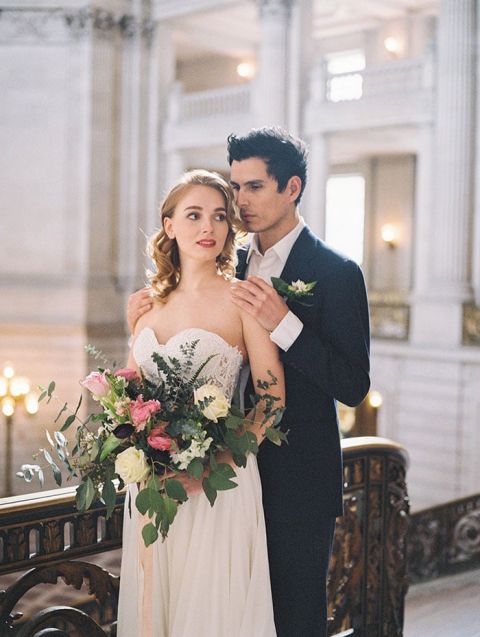 One of the most beautiful and individual elements of an intimate elopement are the personal flowers! U and I Flowers created the groom's boutonniere and and bride's bouquet to add color and vibrancy against the grand marble rotunda. The romantic pink flowers offered yet another chance to add a simple detail that can add personality to your photos when you elope at City Hall!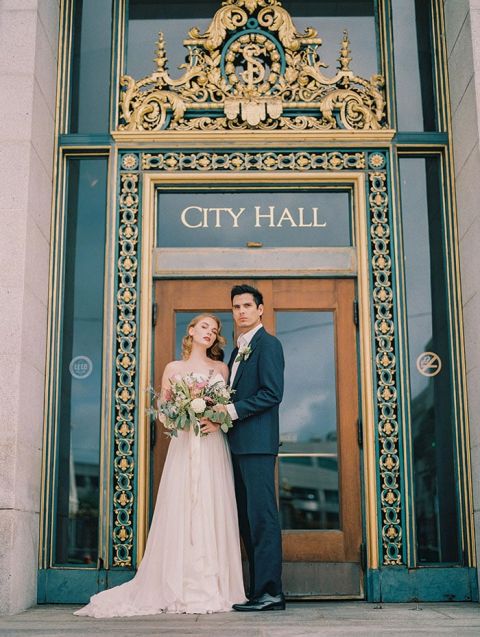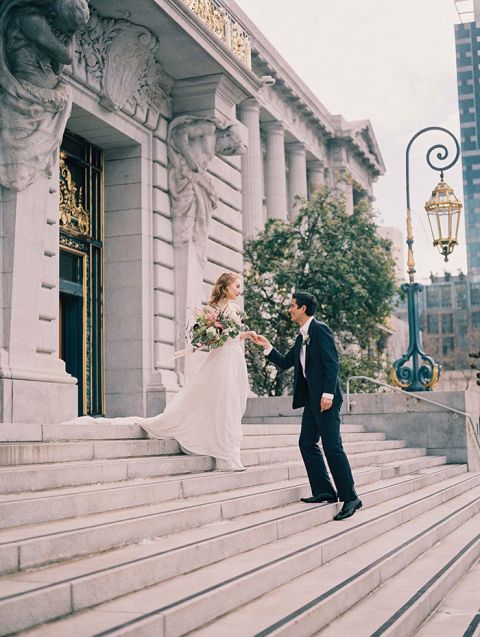 Showcase the venue! Explore, adventure, and enjoy where you get married – including the setting in wider shots to capture the memory of where you made it official.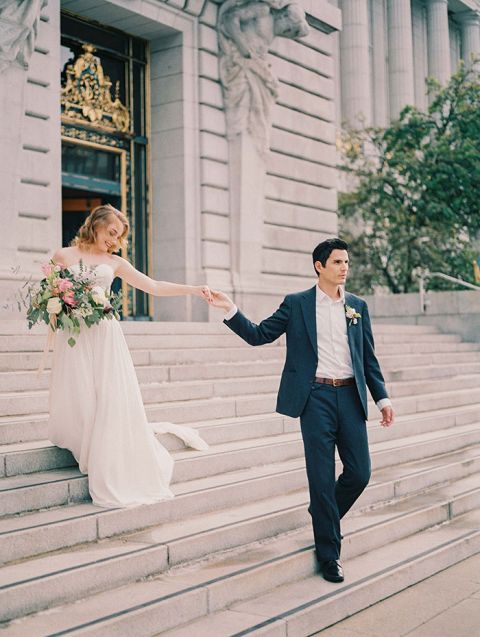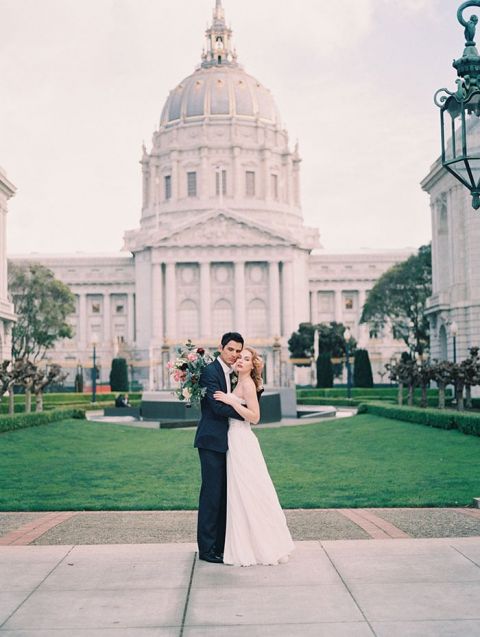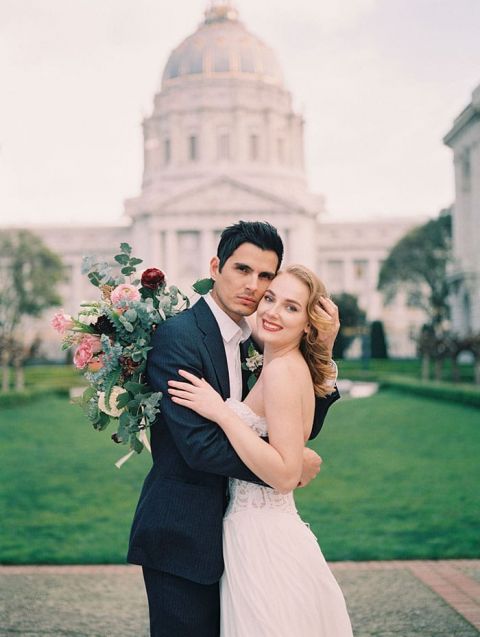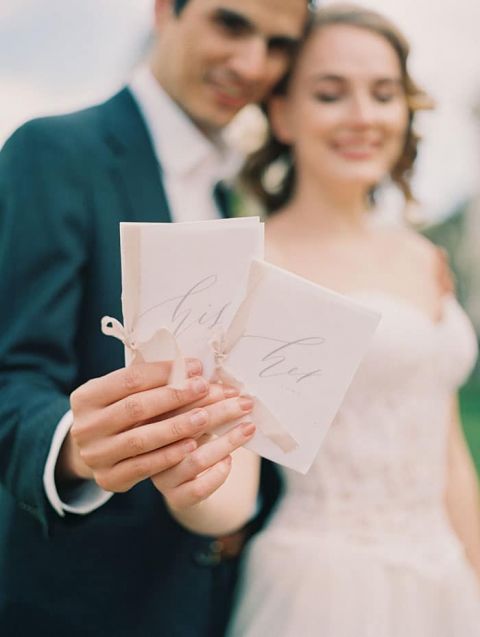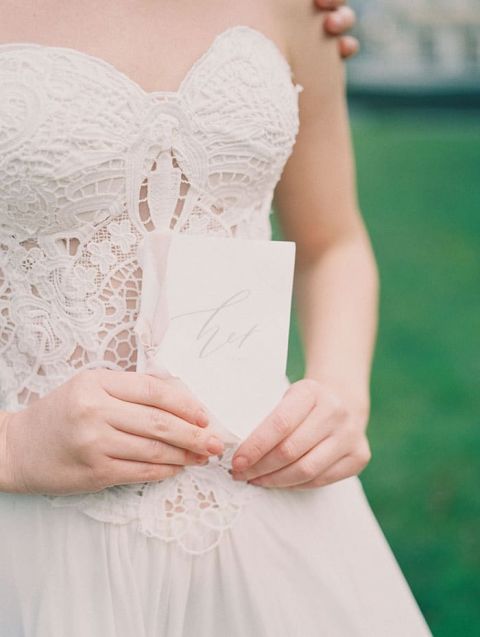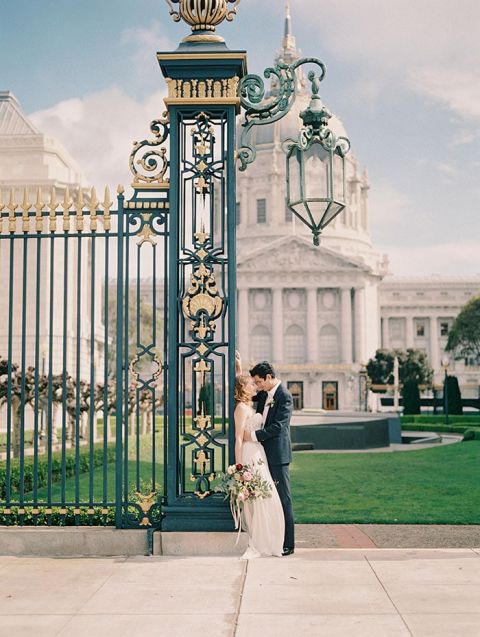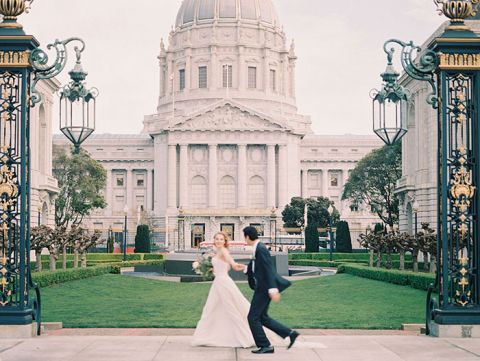 WEDDING VENDORS –
Photography: Aiza Fine Art Photography  
Wedding Dress: Mirabilis Bay Area Bridal Store 
Florist: U and I Flowers 
Hair Stylist and Makeup Artist: Audra Langley