High school sweethearts Michelle and Matthew wanted elegant and minimal for their wedding day in Las Vegas, opting for a clean white color palette and lots of fresh flowers. Their day took a turn for the epic, thanks to the most incredible desert portraits Snapdragon Photo Studio shot at their ceremony in a dry lake bed! This truly stunning wedding day is equal parts heartfelt love and awe inspiring moments thanks to coordination by Starry Eyed Events, a vintage glam gown by Kitty Chen Couture, and lush white flowers by Mylo Fleur!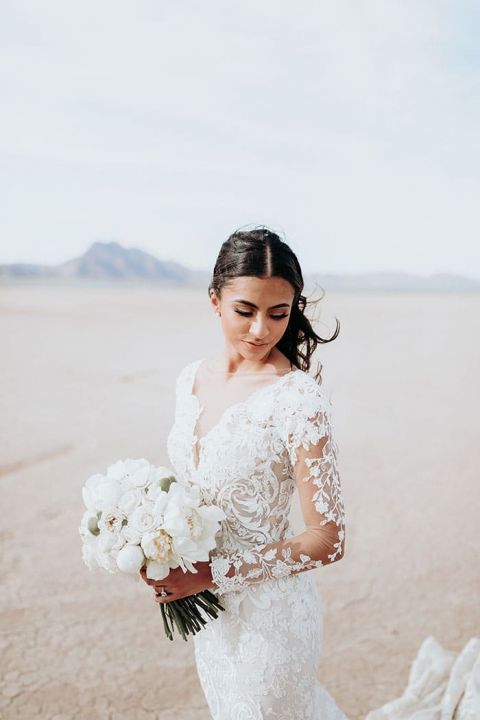 These ladies came to slay! Michelle went for a vintage bridal look in the stunning Georgetta dress by Kitty Chen Couture from Celebrations Bridal. The long lace sleeves and sheer back with a line of buttons down to the truly epic train was made for amazing portraits! She did her wedding day makeup herself and worked with Paz Makeup Artistry to create the long curled hairstyle to complete her vintage Old Hollywood look!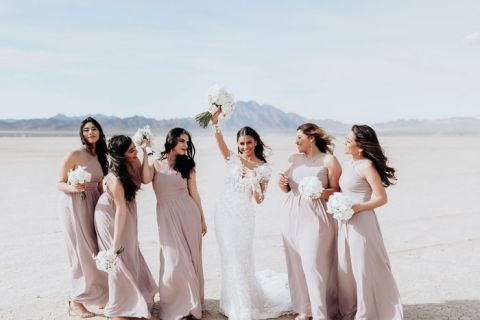 While the rest of the wedding day kept to a chic white color scheme, the bridal party added pops of color that were inspired by the desert landscape! Delicate blush dresses for the bridesmaids and slate blue suits for the groomsmen beautifully suited the dry lake bed and distant mountain vistas in every direction. The groom chose a midnight blue suit from Indochino for a timeless James Bond vibe, and paired it with a butterfly bow tie and leather boots to add his personal style to his wedding day look.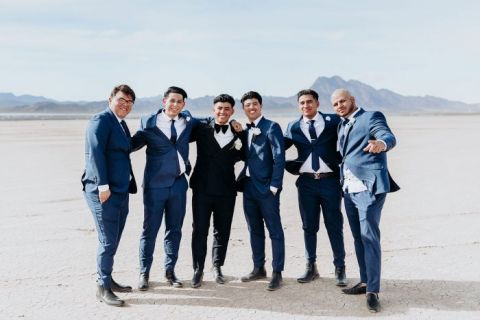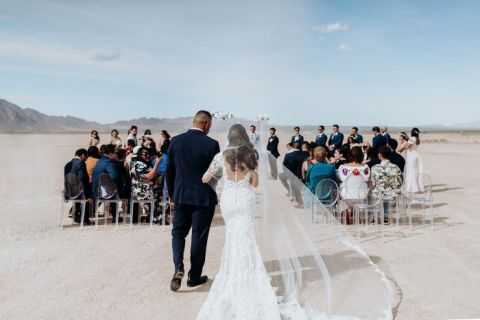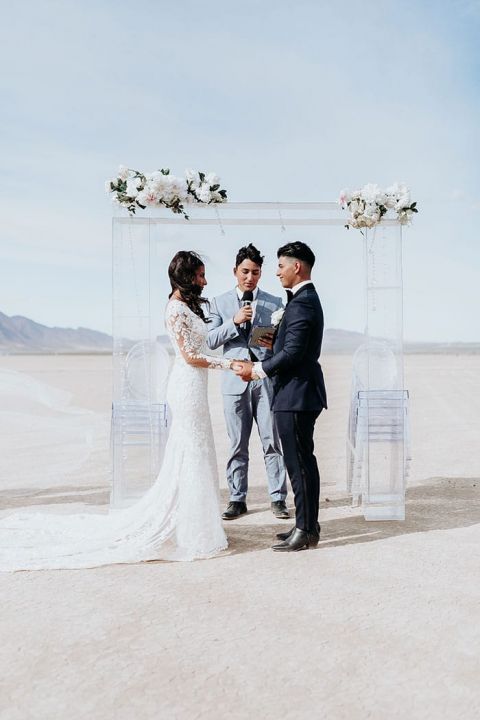 Their incredible ceremony location in the El Dorado dry lake bed outside Las Vegas came about because they wanted something unique and different! Starry Eyed Events pulled off their truly epic outdoor ceremony, coordinating an intimate ceremony setting with clear acrylic decor that allowed the natural beauty of the desert to shine through.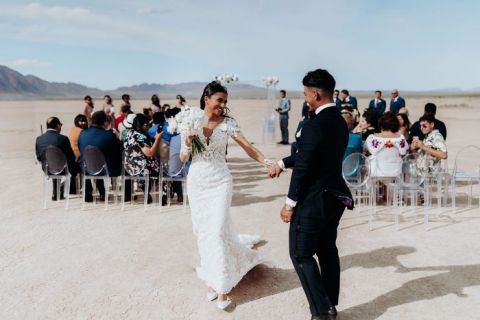 Snapdragon Photo Studio stole the bride and groom away for a portrait session in the desert as soon as they were declared husband and wife! The shoot had special significance, as Matthew proposed during a similar couple's shoot when the two stood in as models! While posing for his photographer cousin was not an unusual . occasion, Michelle knew something was different about this shoot when she could feel his heart racing. Before she knew what was happening, he got down on one knee as the camera captured every moment of Matthew asking Michelle to spend the rest of his life with her!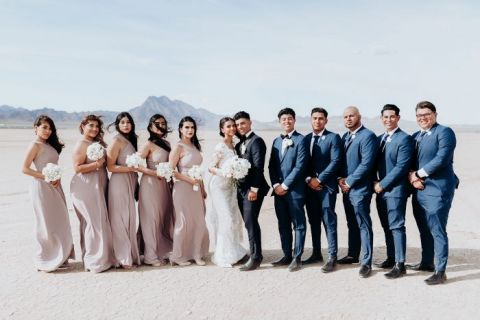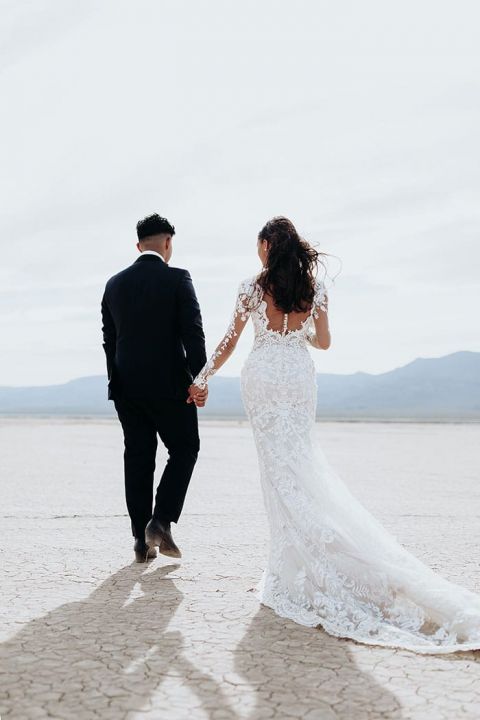 The couple drove further into the desert to make sure that these epic moments would be captured by Snapdragon Photo Studio. The stunning simplicity of the two of them in their black tie wedding attire and the impossible views in every direction created the most breathtaking wedding memories. They both cherished the chance to spend a few quiet moments together in the middle of the wedding day madness. They made their way back into Las Vegas, with a quick stop at McDonald's before joining their guests!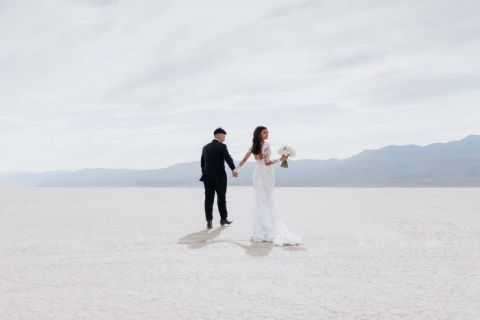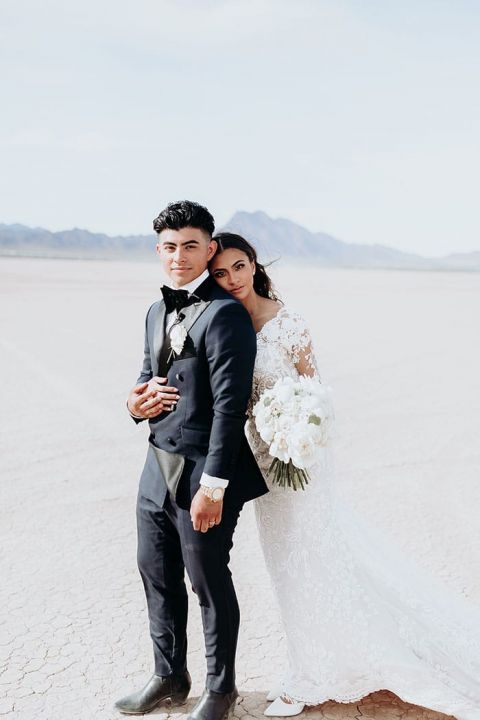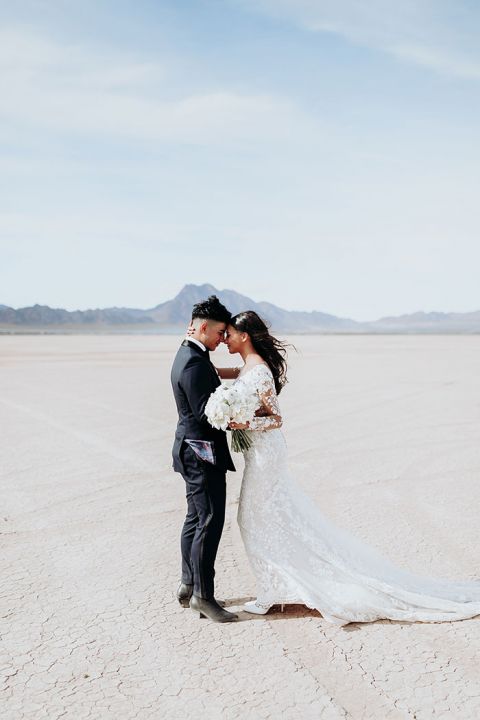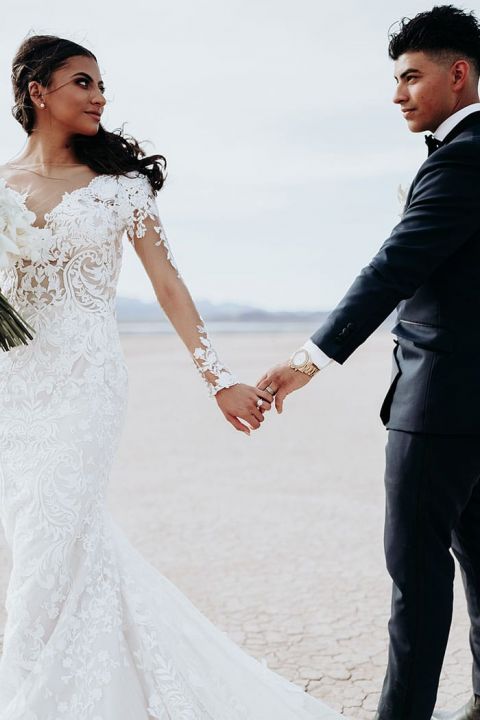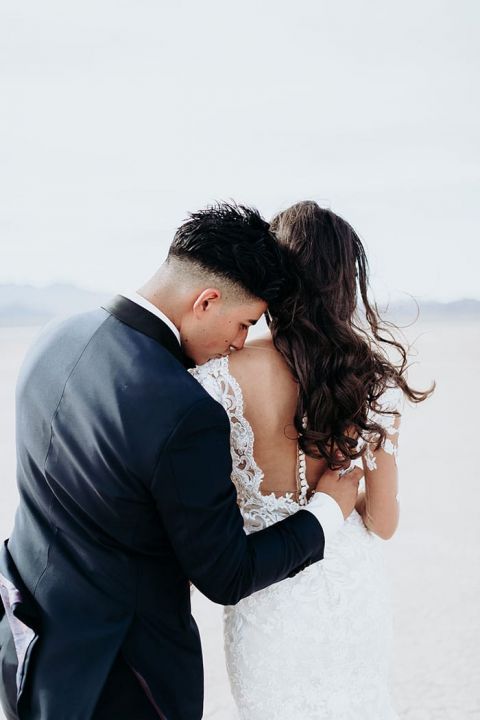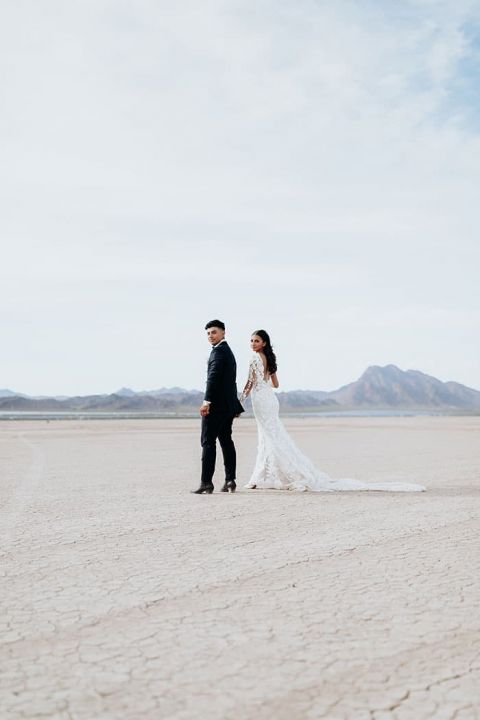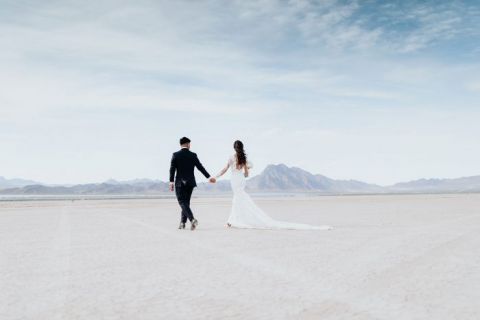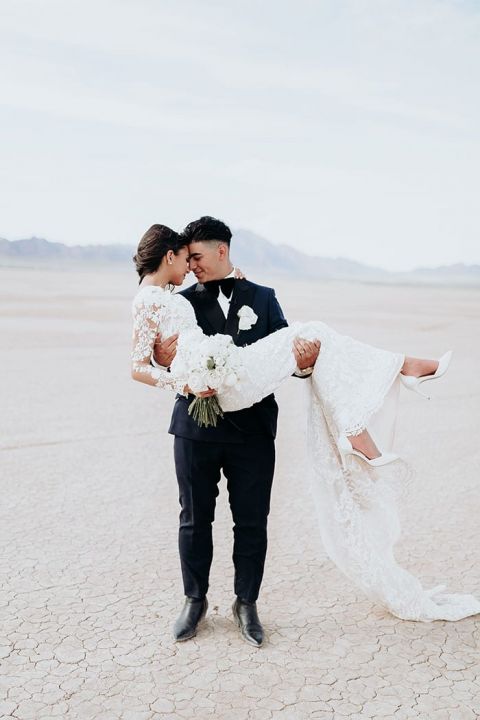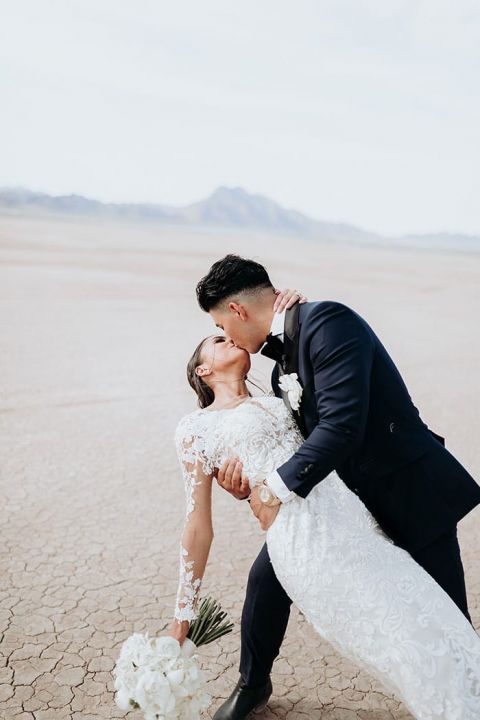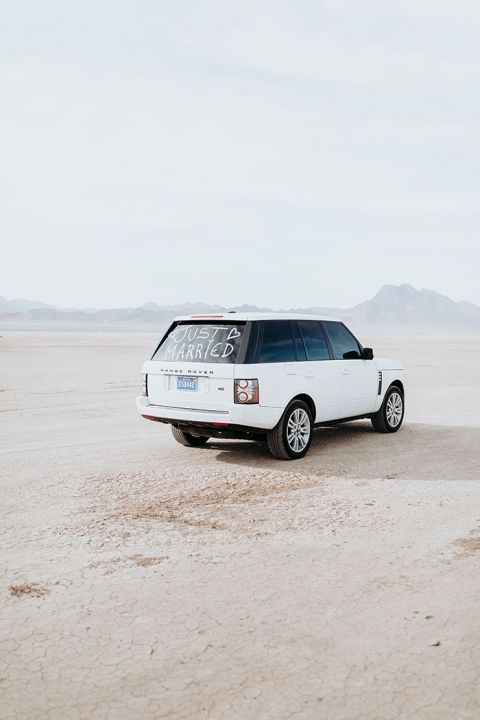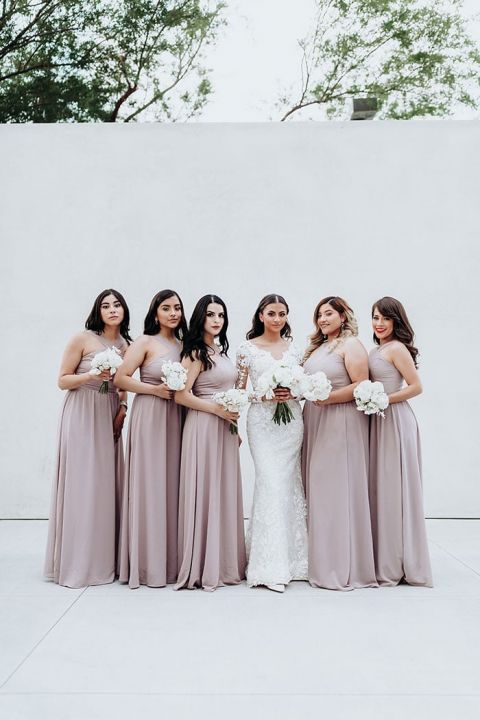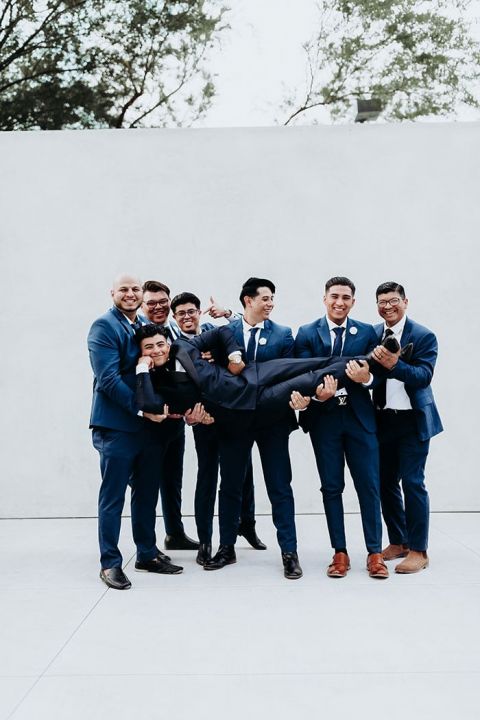 The couple chose MEET Las Vegas for their reception because they felt like they could really make the space their own! The modern white reception hall fit their shared vision for a minimalist and elegant wedding, and they kept to a chic white color scheme with pops of greenery and gold.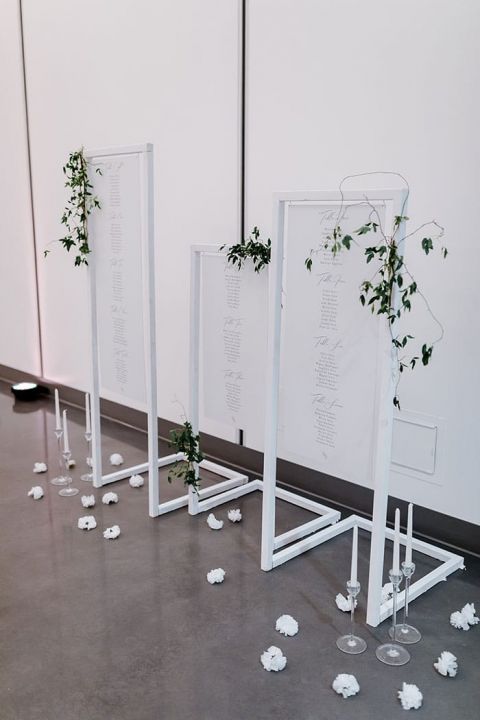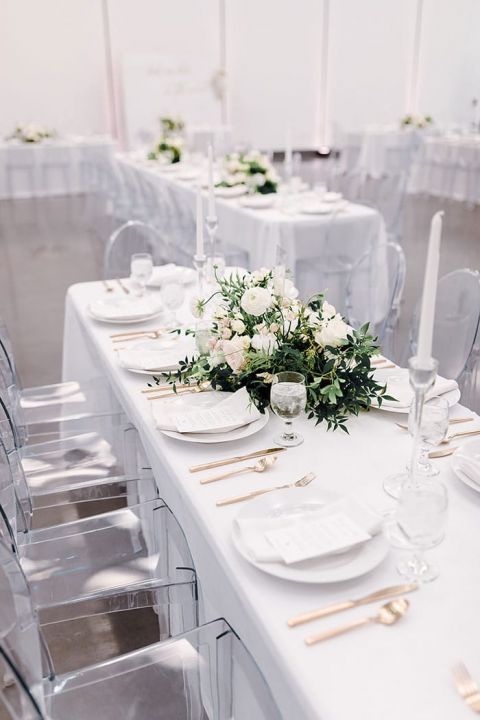 Epic White Wedding Reception
For their reception at MEET Las Vegas, the couple opted for clean white decor with modern acrylic chairs to keep the room feeling airy and light. Gold details and lush white flowers from Mylo Fleur came together in their vision for minimalist, elegant wedding decor with a focus on the amazing floral design!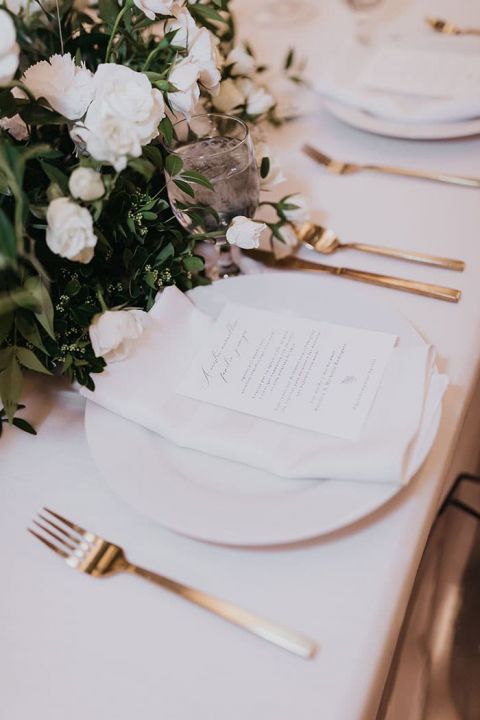 Michelle has a passionate love for flowers, and wanted to make sure they were prominent in the wedding design. She worked with Mylo Fleur to make sure the flowers felt elegant and natural, with low arrangements that felt like they were growing in a garden. Centerpieces of garden roses, ranunculus, and peonies added ruffled texture and amazing scents to the ballroom reception!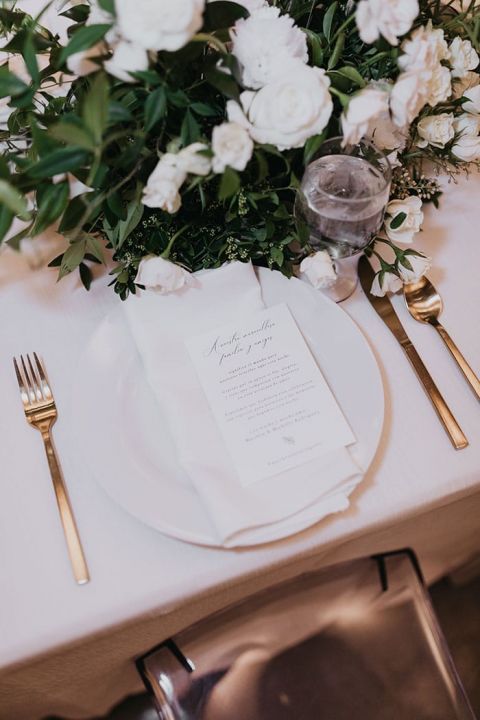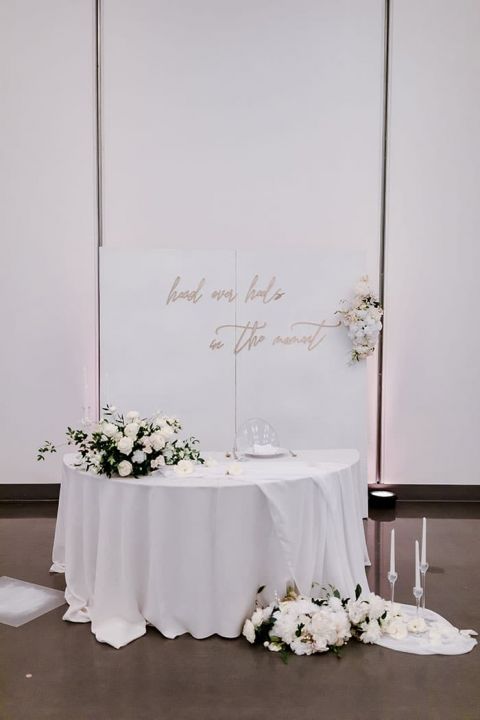 The couple added personal details to make sure the wedding felt like a reflection of the two of them – a calligraphy sign behind their Sweetheart Table served as a reminder to stay 'head over heels in the moment'! They also wrote a personalized thank you note to each guest for making their relationship and wedding so special, and made sure it was at their place setting for dinner.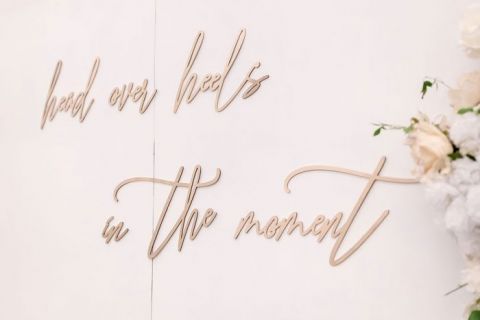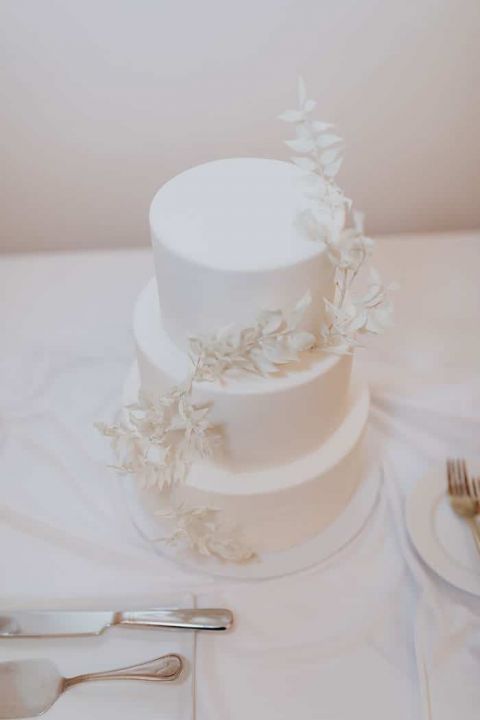 Their lovely cake from Rolling in Dough kept their theme of elegant and minimal. The smooth white frosting and dried flowers covered layers of red velvet with cream cheese frosting, lemon cake with cream cheese frosting, and coffee cake.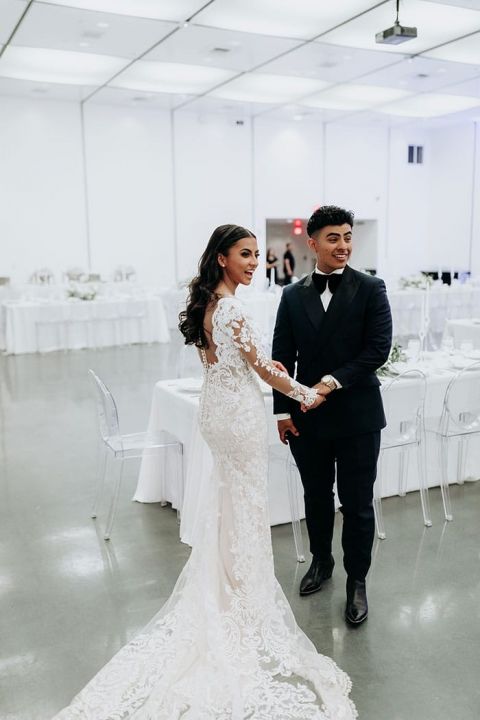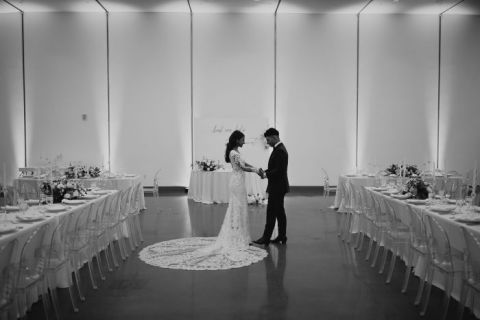 This lovely pair shared an intimate reception reveal moment together before inviting their guests in to celebrate!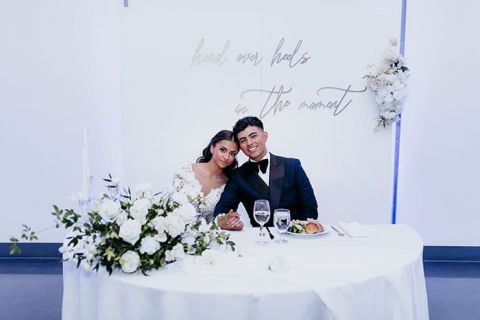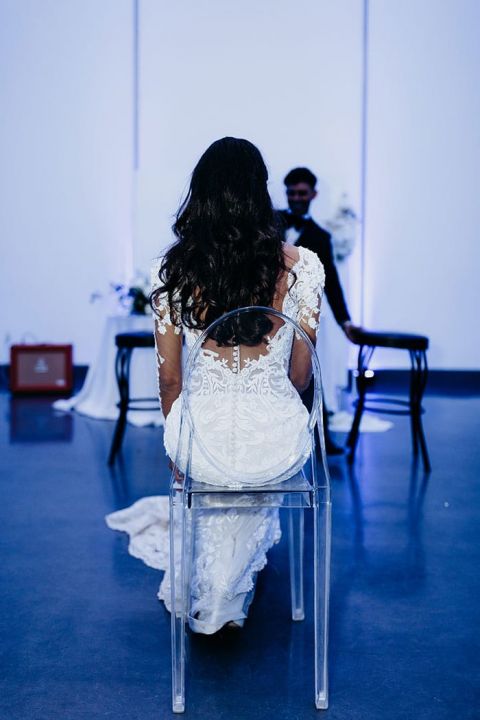 A Surprise Serenade
Matthew surprised his new wife by singing to her in the middle of the reception!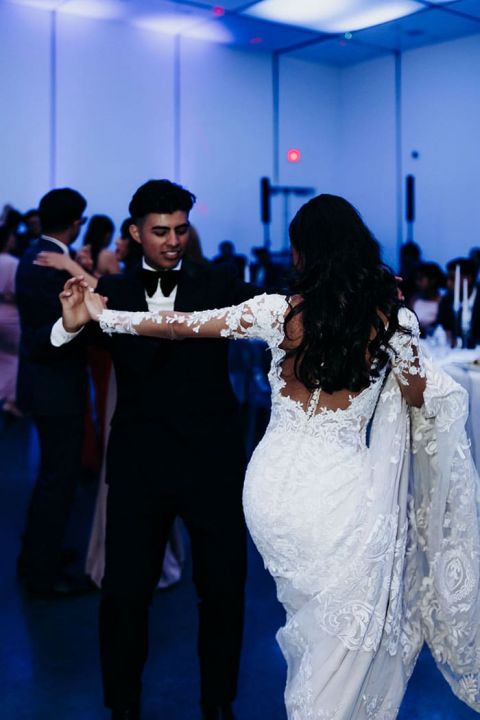 These two killed it on the dance floor – how amazing are their dancing shots!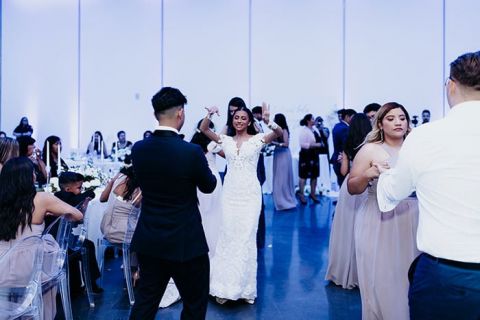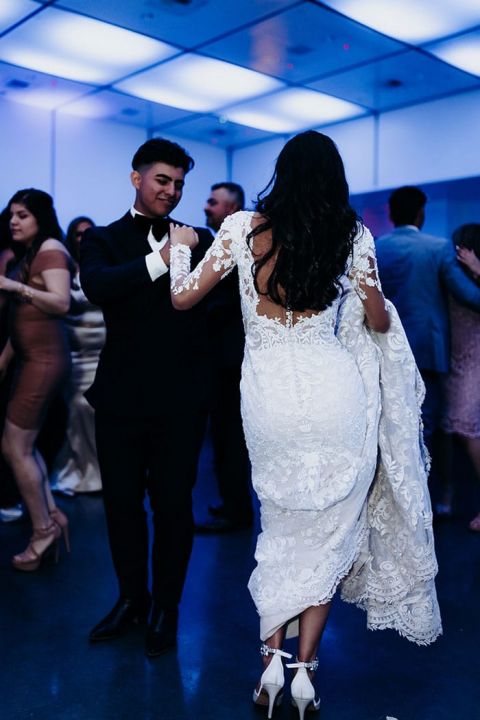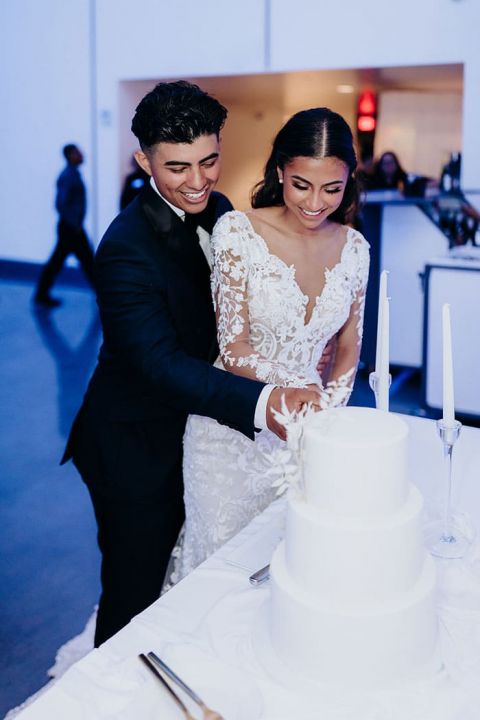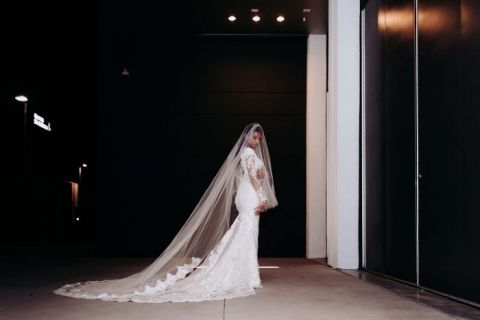 To create her dream veil, Michelle turned to Grey Pearl Bridal Gallery and found a cathedral length veil with a blusher. She found the perfect lace at a craft store and worked with her tailor to add the trim to her veil for the ultimate dramatic look!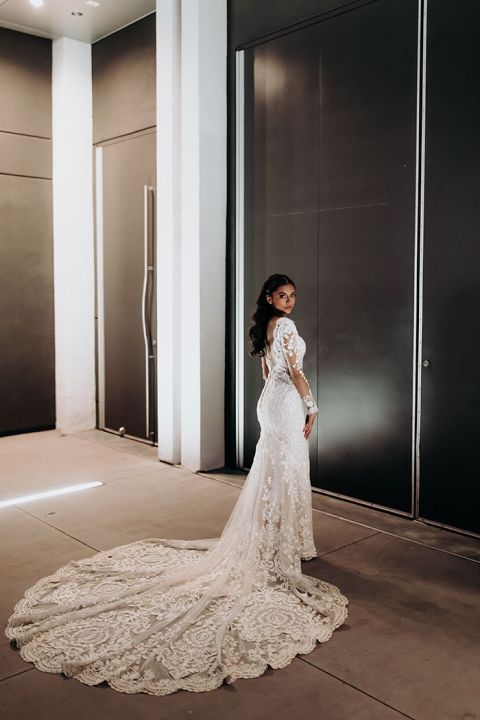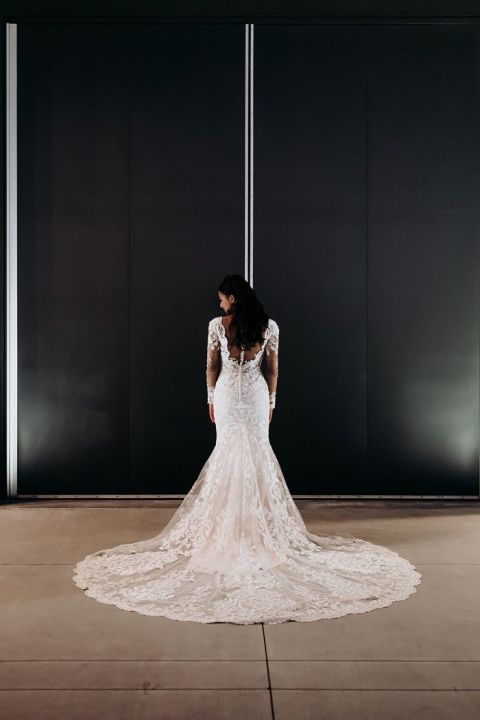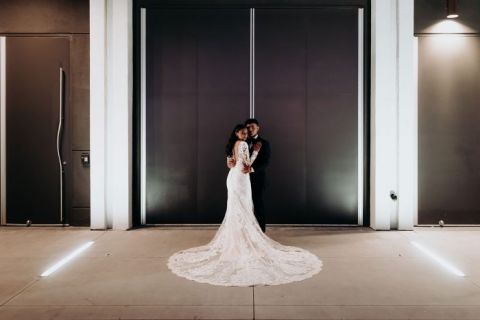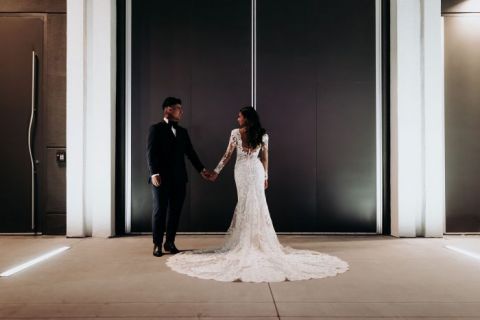 WEDDING VENDORS –
Photography: Snapdragon Photo Studio | Reception Venue: MEET Las Vegas | Event Planning: Starry Eyed Events | Floral Design: Mylo Fleur | Wedding Cake: Rolling in Dough | Wedding Dress: Georgetta by Kitty Chen | Bridal Boutique: Celebrations Bridal | Veil: Grey Pearl Bridal Gallery | Groom's Suit: Indochino | Event Rentals: RSVP Party Rentals | Hair Styling: Paz Makeup Artistry | Stationery: Luna de Miel | Videography: Wool and Light Films | Submitted via: Matchology
Epic Dry Lake Bed Wedding in the Nevada Desert for the Love of Adventure