I not only have the honor of sharing this cozy winter barn wedding in Monterey, CA, but standing up for the couple as a bridesmaid as well! Justine and Michael had a meet-cute that any romcom fan would love – they bumped into each other by chance on an international flight. Their immediate spark transformed a random connection into a once-in-a-lifetime romance and they tied the knot this February at the Barns at Cooper Molera! Their beautiful winter wedding was the most joyful celebration of two people, two families, and two countries – Sun and Life Photography and Jaydon Nolasco captured every moment to enjoy!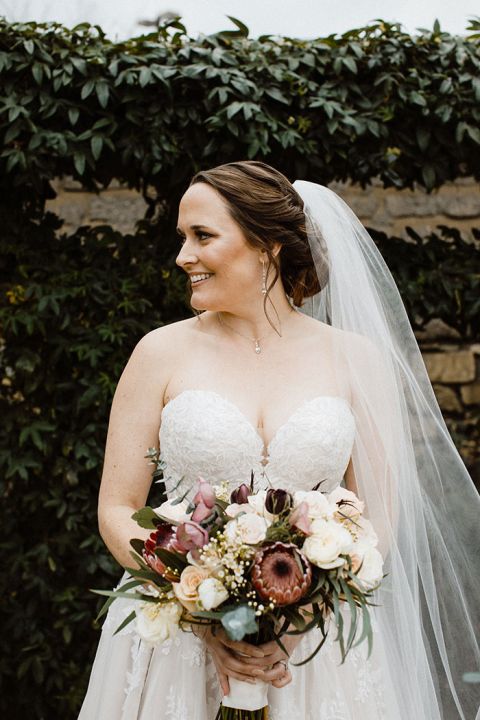 A cozy winter barn wedding in frost blue
How stunning is she! It's always fun to write about bride's attire choices, but this time I was able to be present for every decision that went into this look! Justine visited several Bay Area bridal salons with some of the wonderful ladies in her life, myself included. She discovered early on that flowy and romantic A-line wedding dresses with lace details felt like the right choice for her.
There were a few dresses that she loved, but it wasn't until a bridal consultant at Novella Bridal SF pulled this Essense of Australia gown off the rack that she knew it was the one. She teared up after seeing it on the hanger, feeling that perfect little moment of, 'oh, that's it!' She came out of the fitting room and there wasn't a dry eye in the group! The flowing organza skirt and applique lace details hit the perfect balance of romantic vintage style and country elegance for the barn wedding venue.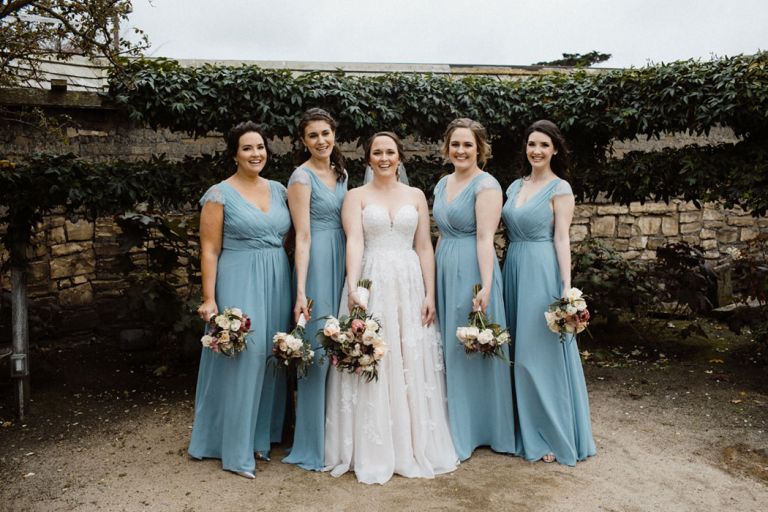 Justine chose several Azazie bridesmaid dresses that piqued her interest – the Veda dress was a unanimous favorite thanks to the pleated bodice and lace cap sleeves. She chose the dusty blue color to complement the chilly colors of the cozy winter barn wedding.
It doesn't hurt when the brides's sister and Maid of Honor is also an incredible florist! Among Roses Floral pulled double duty and created the stunning flower arrangements, including the protea, hellebore, rose, and eucalyptus bouquets carried by the bride and bridesmaids! The romantic plum, silvered green, and cream colors were the perfect addition to the chic blue bridesmaid dresses!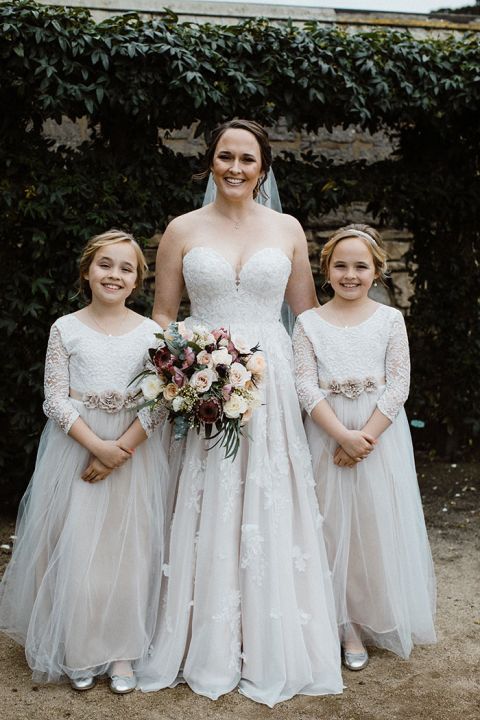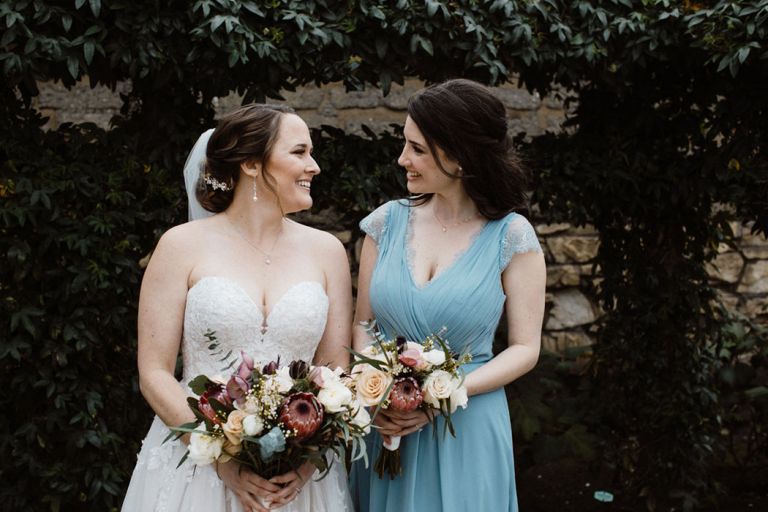 Being a part of my best friend's wedding day was the most amazing experience! There's almost thirty years of friendship in this photo!
I'll never forget hearing from my best friend as she prepared to fly back from a trip to Alberta – she was debating giving her number to a cute guy on her flight who was traveling from Saskatoon to the Bay Area to visit his mother. Being the supportive friend that I am, I encouraged her not to chicken out – who knew what would happen? The worst case scenario was never seeing this handsome plane stranger again, but the best? None of us were quite ready for what the best case scenario had to offer!
He not only called and took her up on a tour of Santa Cruz, but they met up again in San Francisco before his trip ended. By that point, they both knew that this chance meeting had the potential to be a lot more. She chose a date to fly back to Canada and visit him in Saskatoon, and he was her date at a wedding in California a few months later.
They flew back and forth across North America for the first year, becoming intrinsically wound into the other's life as they planned long video dates and phone calls between trips. Nearly a year after their chance meeting on the way to San Jose, they visited Hawaii with her family. The couple stole an afternoon together for a volcano hike, and Michael got down on one knee once they reached the peak! Justine could not have been happier to say yes!
I was ecstatic to get the announcement text as soon as they came back into range, but it was the bride-to-be's nephew who made the moment perfect – as soon as he found out the proposal happened on top of a volcano, he said, 'Awww, he lava you!'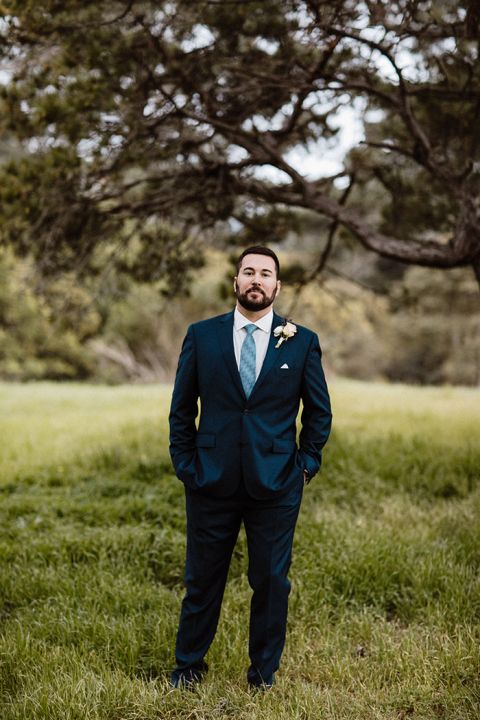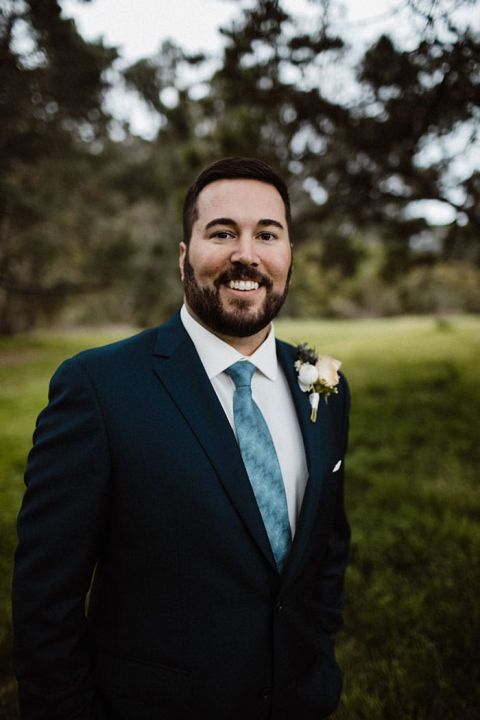 The groom, Michael, chose a navy suit and patterned blue tie to accent their signature colors!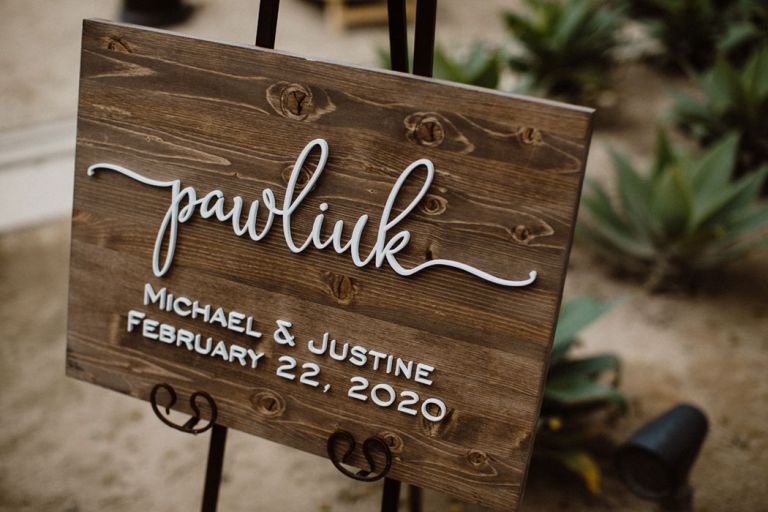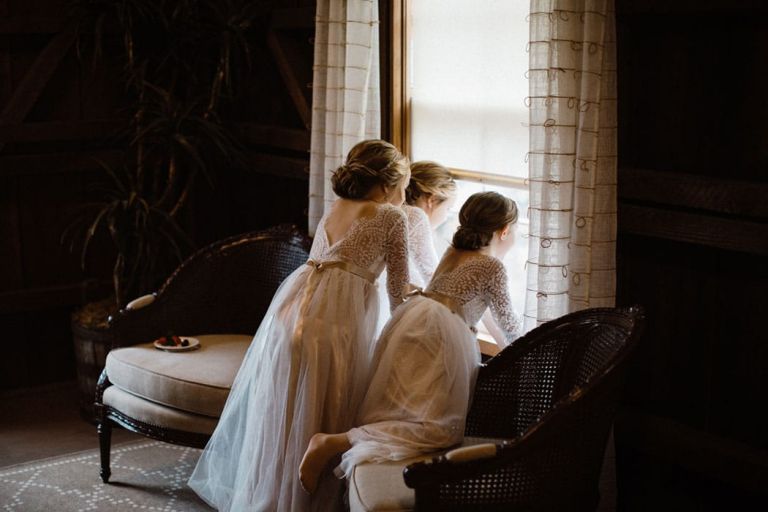 The adorable flower girls peeking as the courtyard started to fill up felt like the little sisters in a Jane Austen novel excitedly watching guests arrive at the ball!
When it came to choosing a venue, Justine and Michael knew they would need an indoor backup option. February was a safe choice for the immigration process as they slowly (and frustratingly) worked on getting Michael's fiance visa, but the weather is unpredictable even in California.
They chose Barns at Cooper Molera, which had a beautiful courtyard and gardens that would be perfect for the ceremony as long as the weather stayed fair. The cozy barn interior was perfect for dinner and dancing, and could be rearranged to fit their ceremony if needed! Luckily the day was beautiful and clear and their outdoor wedding ceremony proceeded as planned!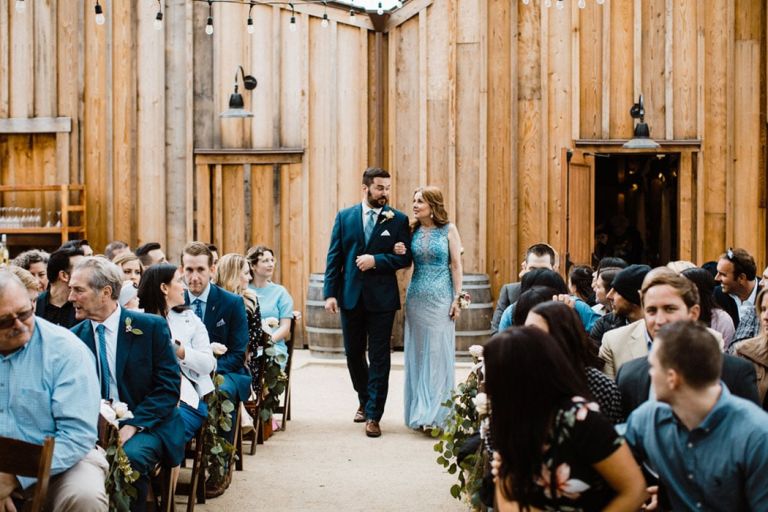 Saskatoon-based Michael was a on a trip to visit his mother in California when he met the woman who would be become is wife!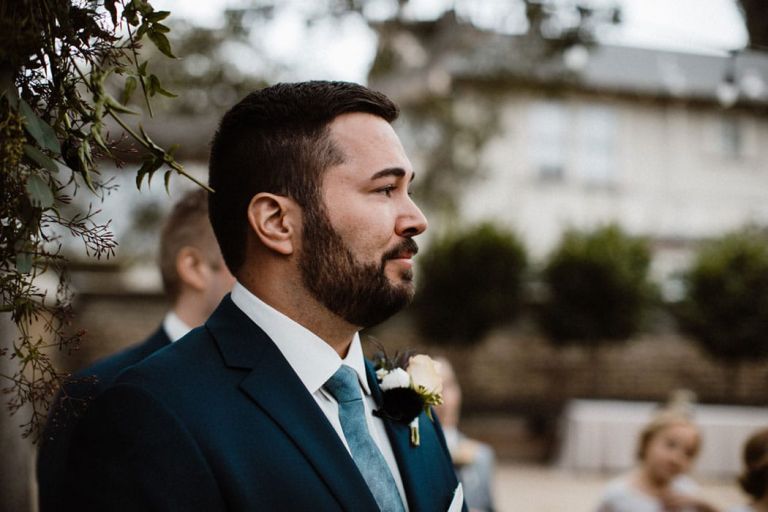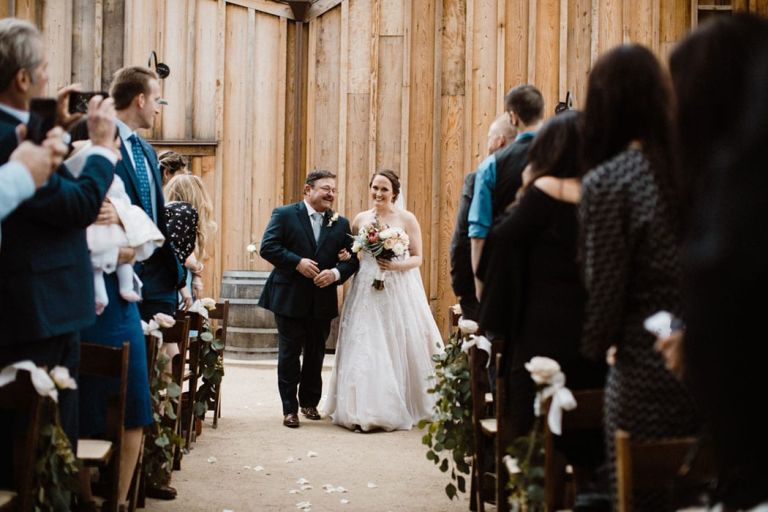 Their beautiful wedding video by Jaydon Nolasco captures the incredible romance of the wedding day – and you can hear the reading I gave during their ceremony. The excerpt from Corelli's Mandolin was a perfect choice for two people who lived a country away from each other and knew that they had found something special.
"Love is a temporary madness. It erupts like an earthquake and then subsides. And when it subsides you have to make a decision. You have to work out whether your roots have become so entwined together that it is inconceivable that you should ever part. Because this is what love is. Love is not breathlessness, it is not excitement, it is not the promulgation of promises of eternal passion. That is just being "in love" which any of us can convince ourselves we are. Love itself is what is left over when being in love has burned away, and this is both an art and a fortunate accident. Your mother and I had it, we had roots that grew towards each other underground, and when all the pretty blossom had fallen from our branches we found that we were one tree and not two."

Wedding Reading – Louis de Bernières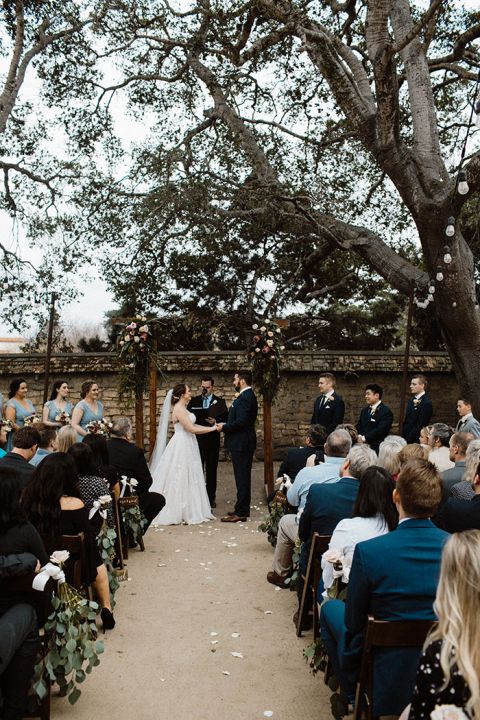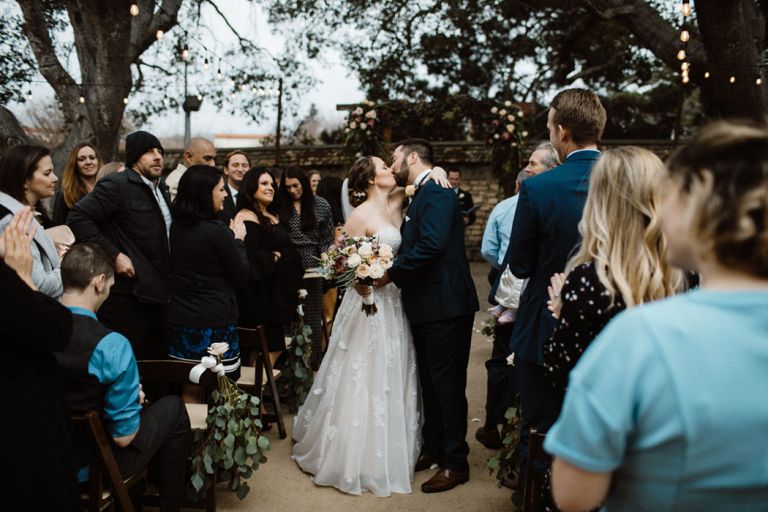 The February wedding date meant that the almond and cherry trees in the gardens were in bloom, creating a stunningly romantic backdrop for these photos of the newlyweds!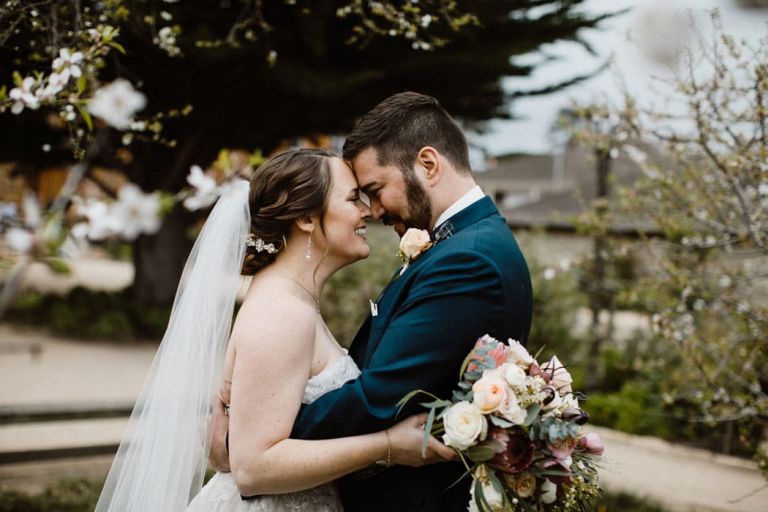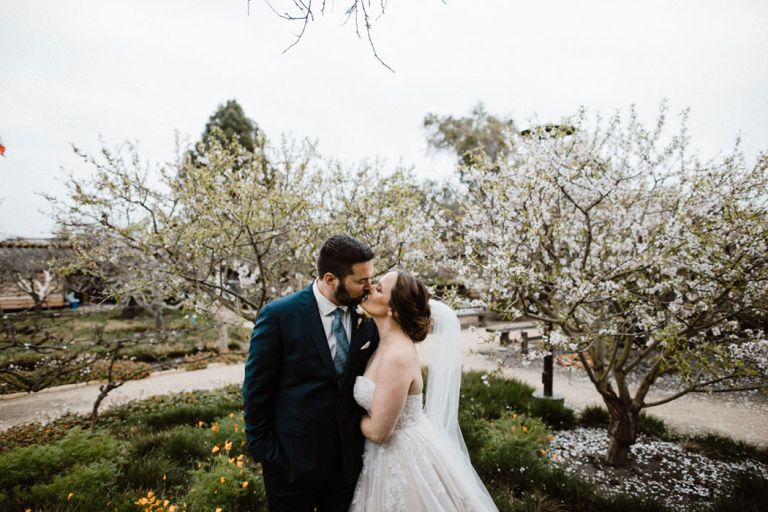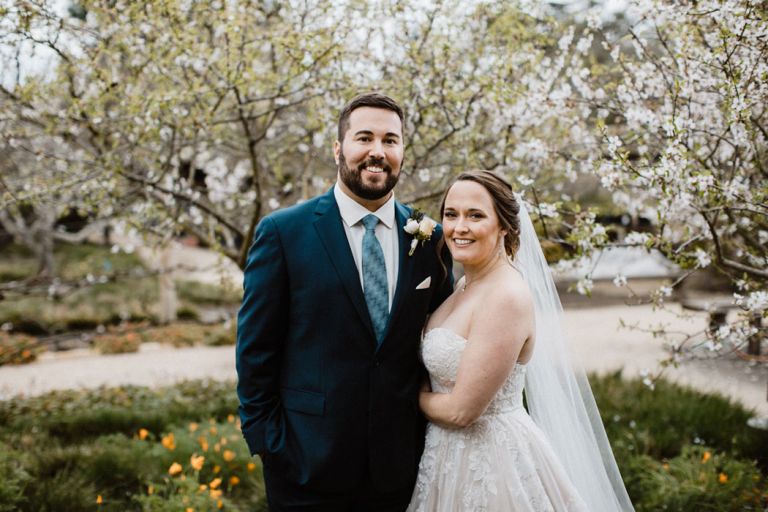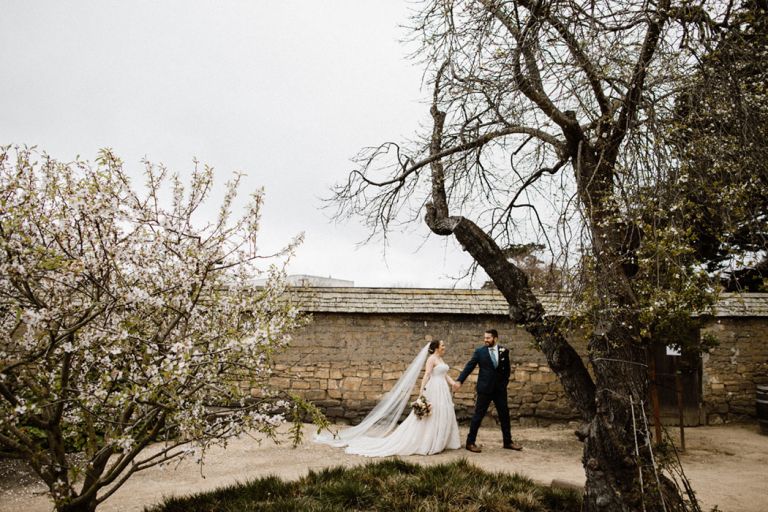 Justine knew she wanted to mix up the photo locations a little, and went on a scouting trip to Monterey to find another portrait backdrop that was close by. A park around the corner added the perfect country atmosphere and allowed the new husband and wife to slip away for an intimate photo session together with Sun and Life Photography!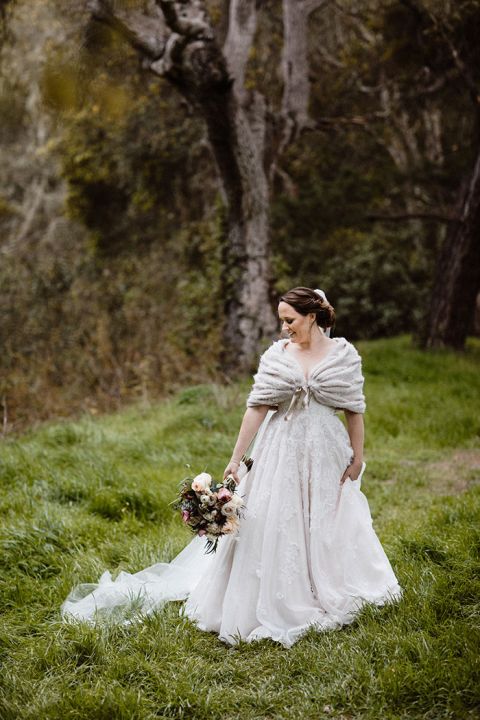 Justine added a cozy bridal wrap – an Etsy find! – to make sure she stayed warm as a winter bride.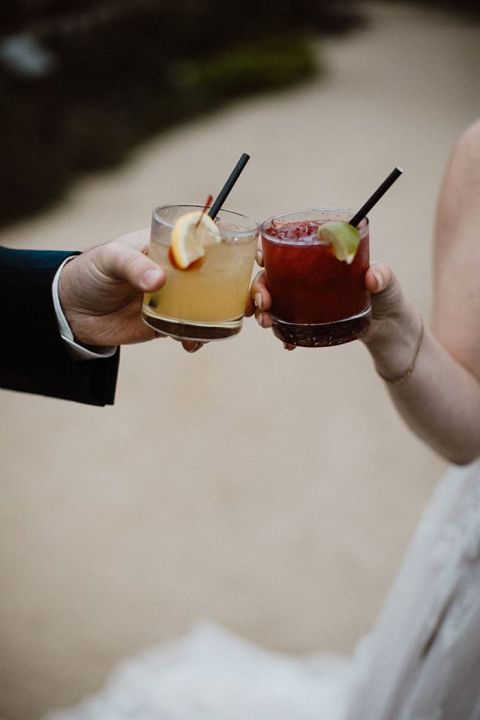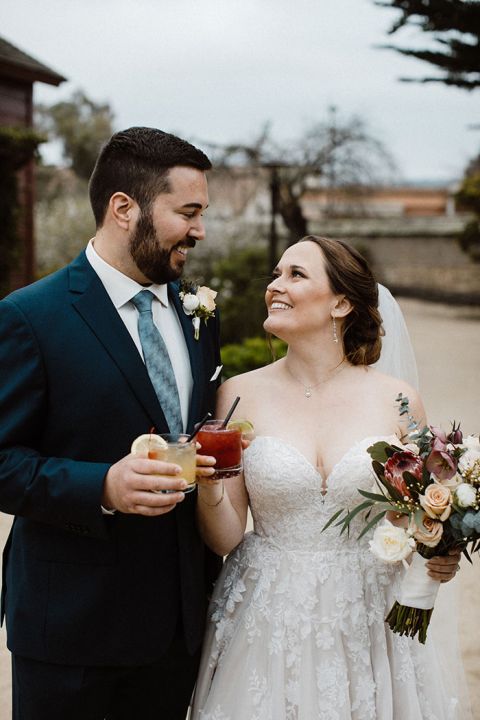 Cheers! The couple had custom cocktails – a whiskey smash for him and a blackberry and ginger sparkler for her!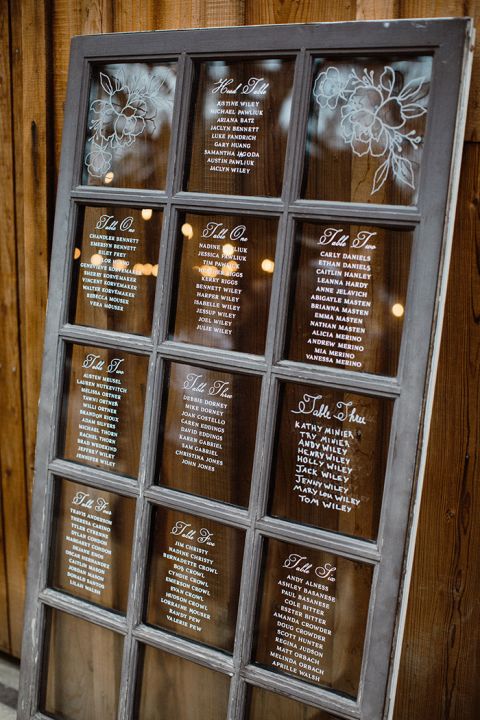 I DIY'ed the seating chart for their reception- the bride found a vintage window frame for the base and I created their guest list as a Cricut design to cut out each vinyl letter!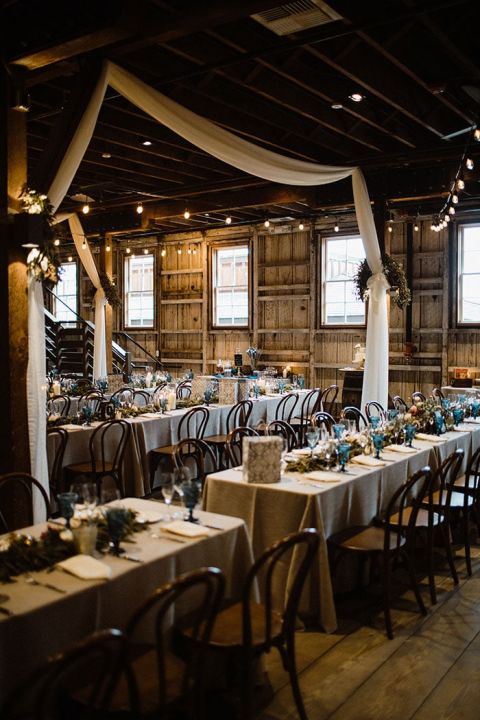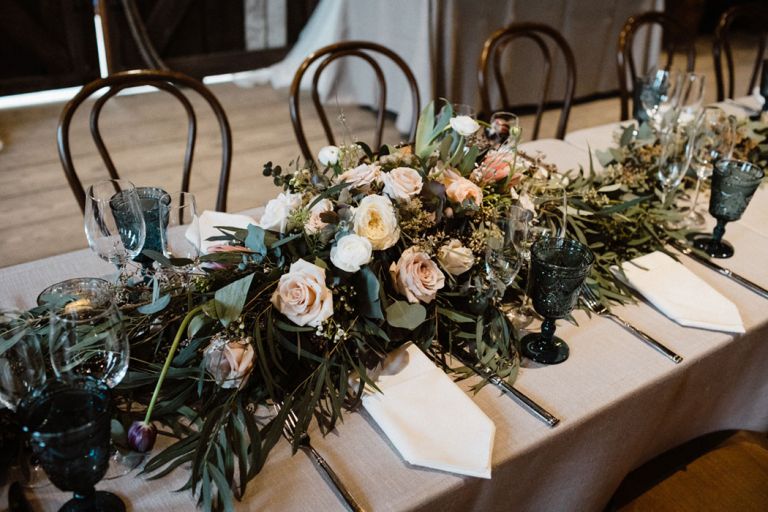 The cozy winter barn wedding reception could not have been more welcoming! Long tables with cane back chairs and elegant gray tablecloths were arranged under the barn rafters hung with string lights. Mercury glass votives and long eucalyptus garlands added to the decor of the long tables, with cobalt blue glassware to add a pop of rich color.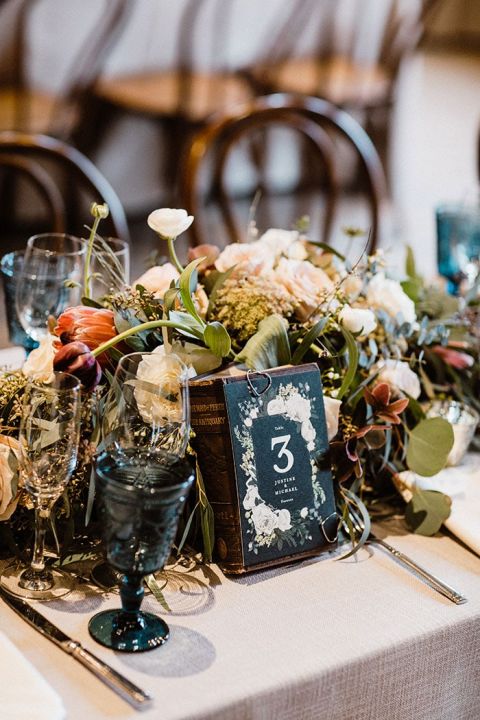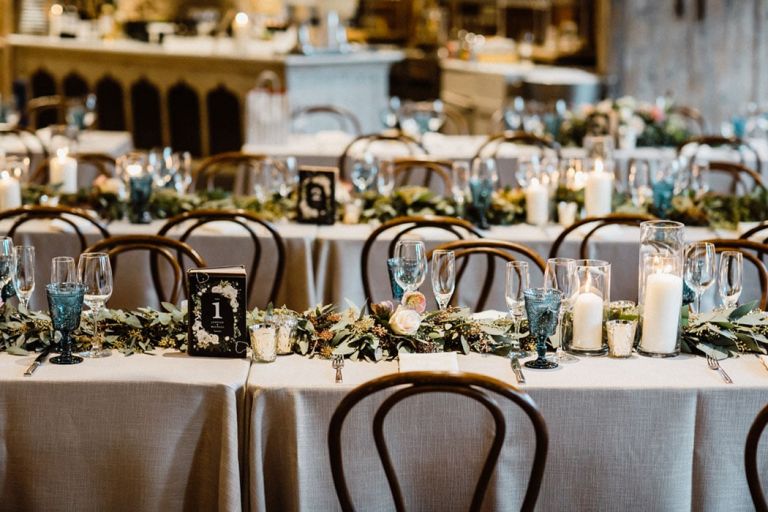 The bride chose vintage books as her table numbers!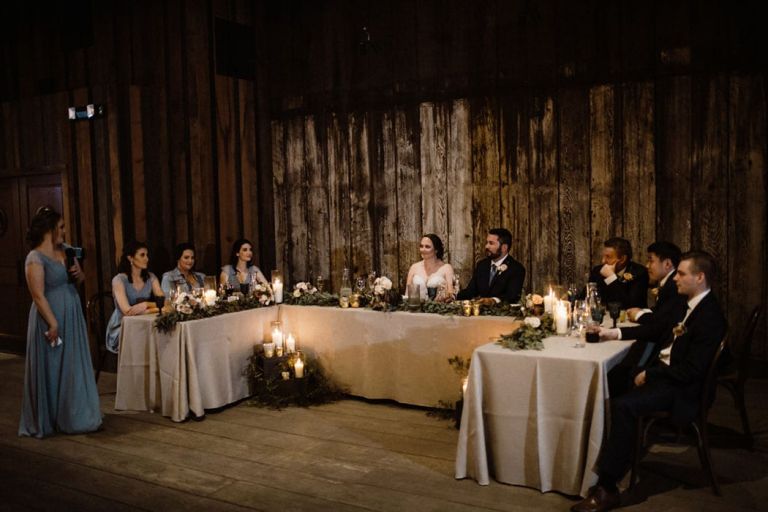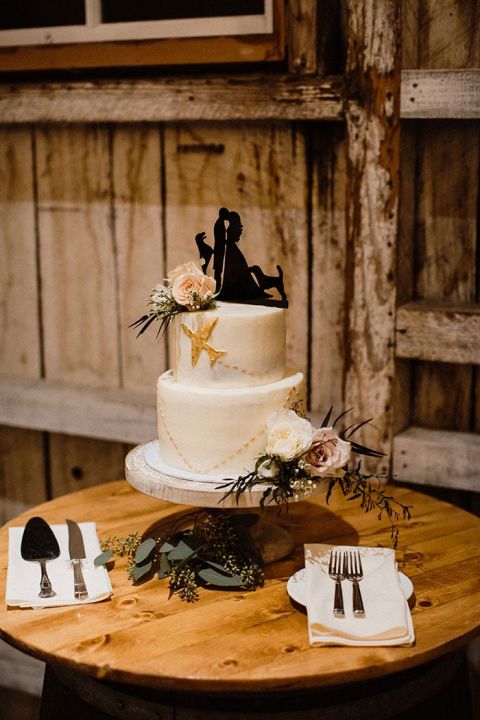 Their baker Emily Tatro created the travel-themed wedding cake as well as an amazing selection of fresh berry pies! Saskatoon berry pie was a must for the Canadian groom! Guests feasted on cake, pies, and cookies after an amazing buffet dinner and another Canadian delicacy – a poutine bar!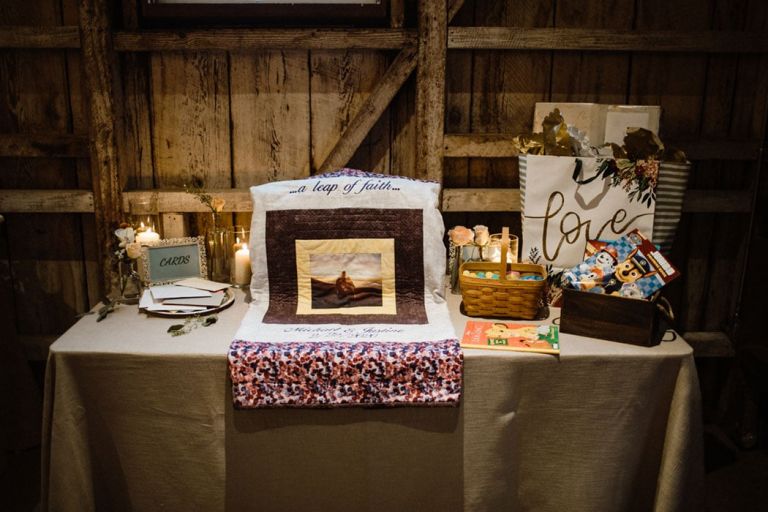 The Mother of the Bride handmade this beautiful quilt with one of their engagement photos as the most stunning wedding gift!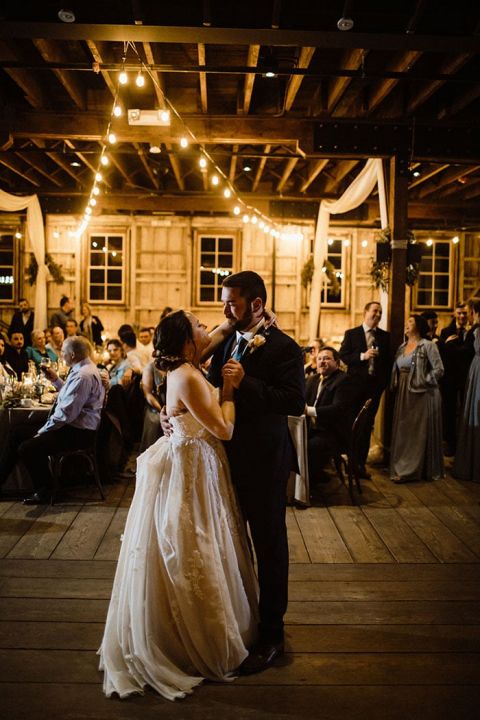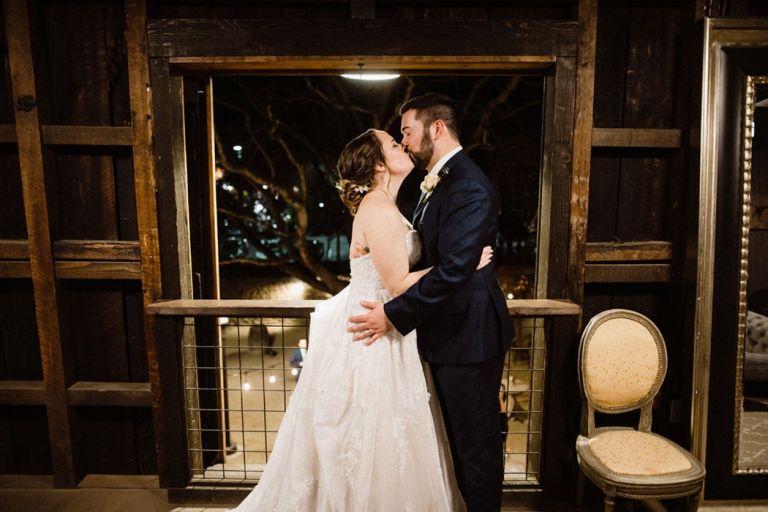 This wedding day was an amazing celebration of two people in love, who knew they had found something incredibly special by chance. It wasn't just a culmination of their planning process, but years and months of international trips, long distance video calls, and a leap of faith!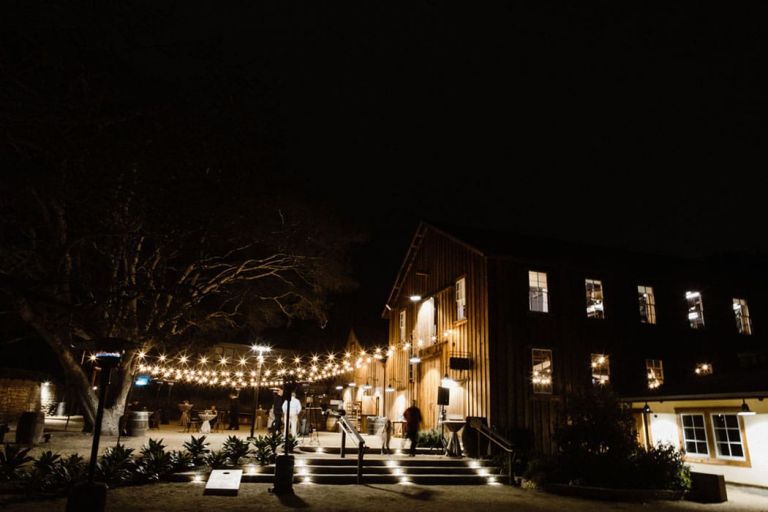 WEDDING VENDORS –
Photography: Sun and Life Photography | Videography: Jaydon Nolasco |
Wedding Venue: Barns at Cooper Molera | Florist: Among Roses Floral | Cake and Pies: Emily Tatro | Wedding Dress: Essense of Australia | Bridal Boutique: Novella Bridal SF | Jewelry: Haute Bride @hautebride from Bride and Bustle Salon | Bridesmaid Dresses: Azazie | Hair and Makeup: Bridal Bliss Company