Mix together relaxed Southern California style, an intimate woodland ceremony, and the perfect little white dress, and you get this intimate forest elopement shoot! LPK Photo and Storylines Floral Co. dreamed up this chic and colorful event to serve as inspiration for a wedding day that's a little off the beaten path. They transformed an old growth oak tree into a colorful ceremony altar and combined a sunny yellow and slate blue color palette with organic textiles to bring this laid back yet totally chic event design to life!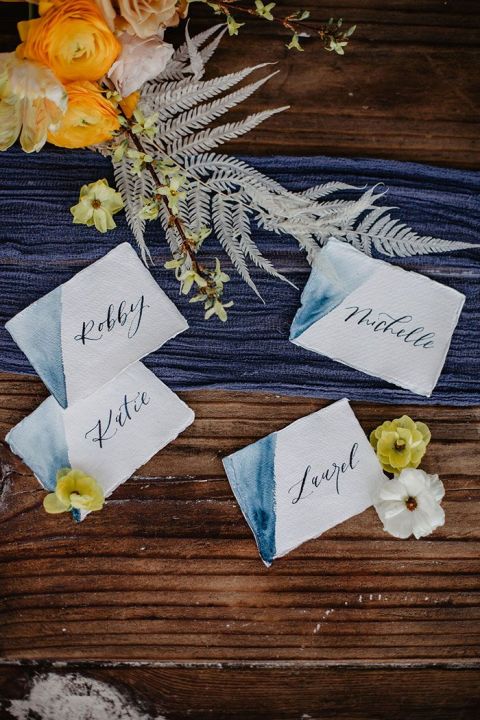 Sweet little details by Storylines Floral Co. transformed even the most minimal accents into thoughtful touches for an intimate wedding day. These hand painted notes calligraphed by Kelly Patrice are the perfect way to greet a select few guest to an elopement! Shades of blue and buttery yellow hint at the gorgeous color story to come!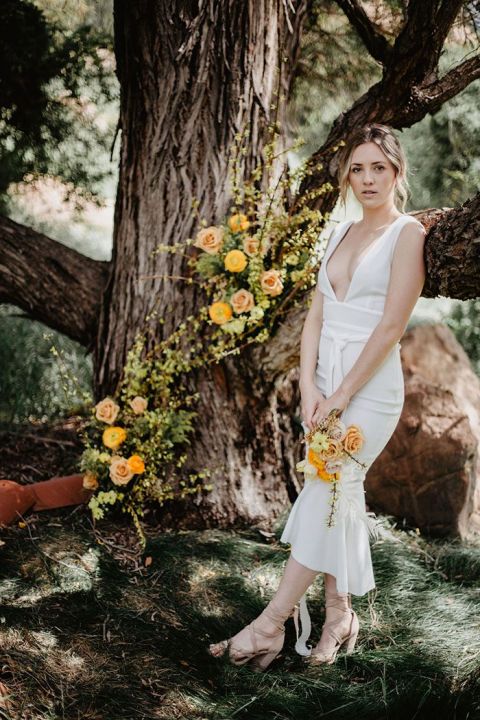 An intimate elopement is the perfect place for a little white dress! This figure hugging find from White Fox Boutique was a fun and non-traditional pick that still had modern bridal elements. The strappy sandals with a nude block heel were the perfect fit for the midi length and forest setting!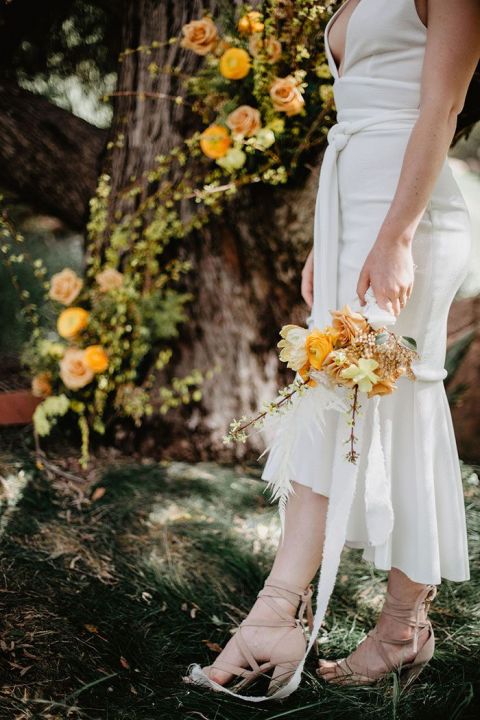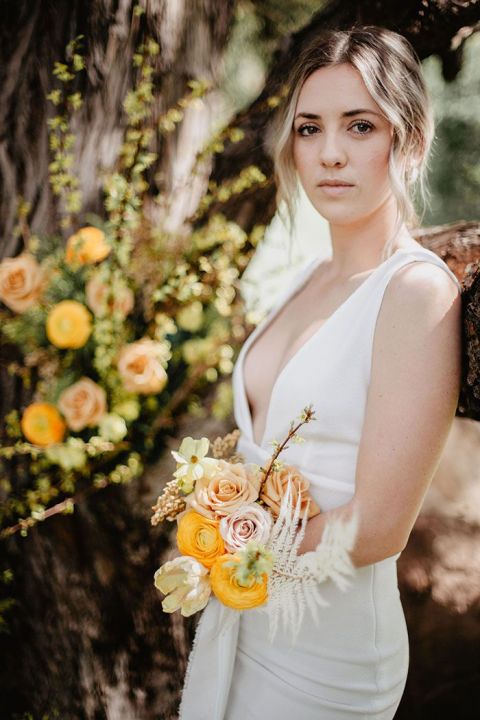 Storylines Floral Co. kept the palette full of sunshine with an abundance of yellow flowers! The bride carried a clutch of marigold yellow ranunculus, roses, and tulips, mixed with flowering branches and dried grasses for a modern textural touch.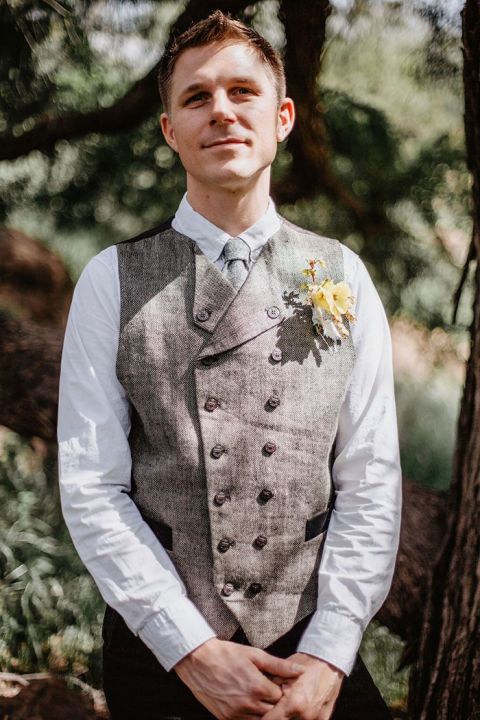 A tweed double breasted vest served as the statement piece for this unique groom's look! The neutral shades and elegant textures gave him a three piece suit vibe without adding formality to the intimate setting.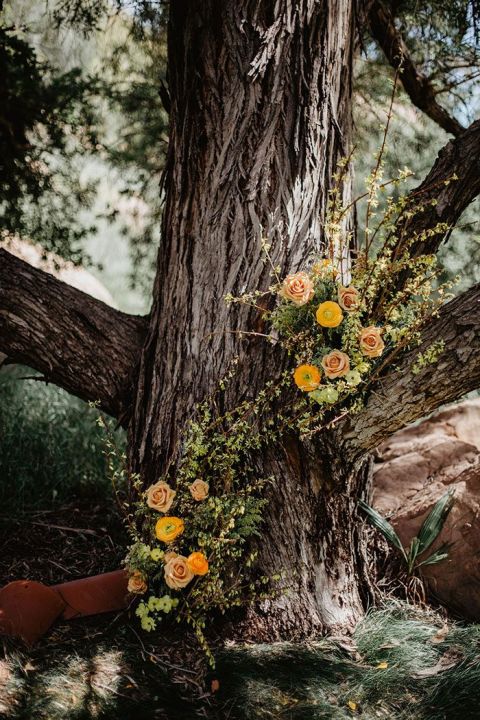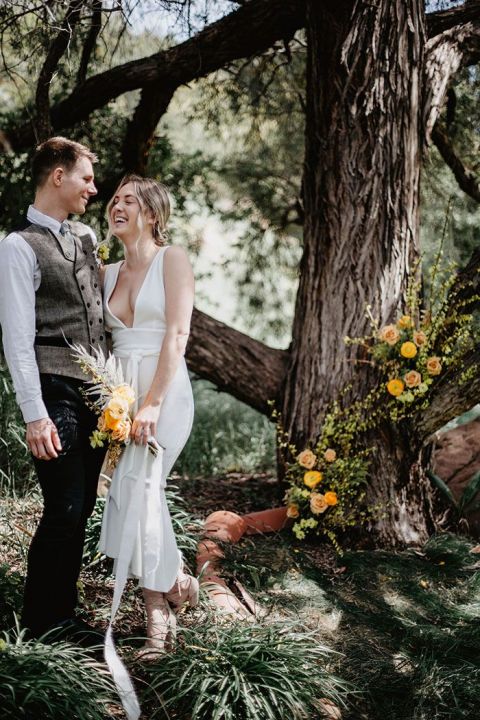 This stunning ceremony was all about the couple! Floral dressing turned the simple tree into an elegant altar, letting the natural beauty of the forest setting shine through with minimal and organic detailing.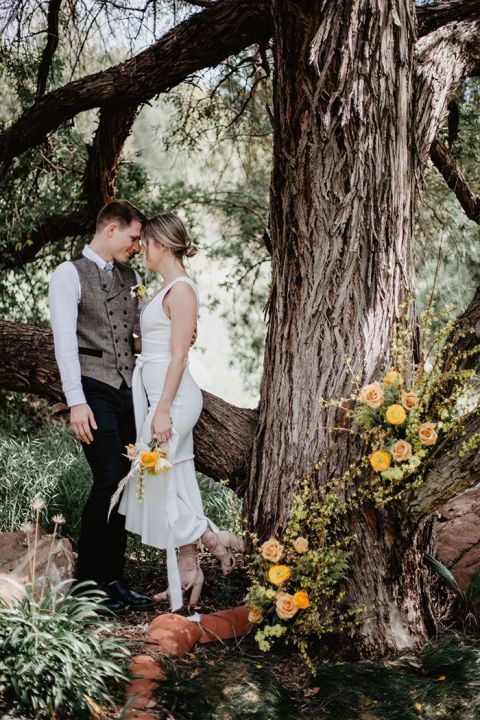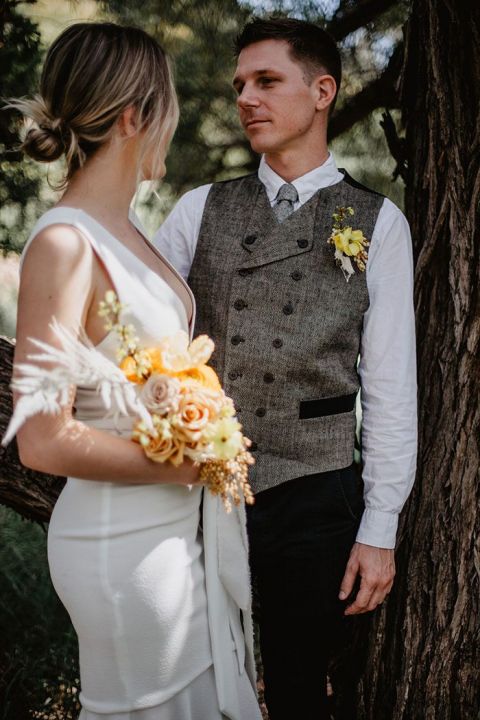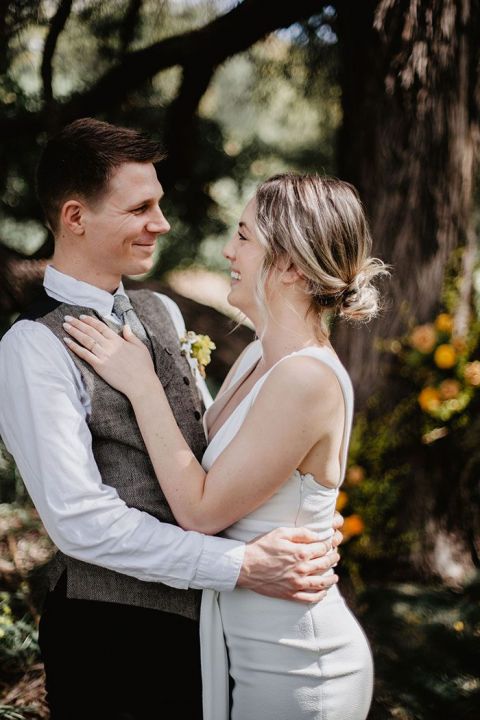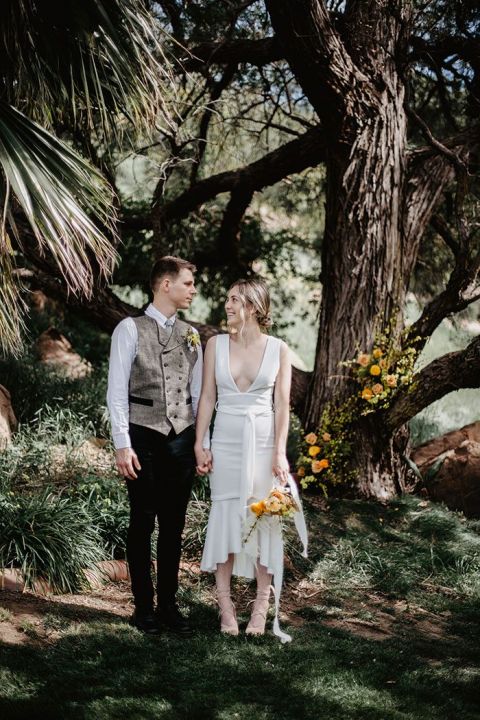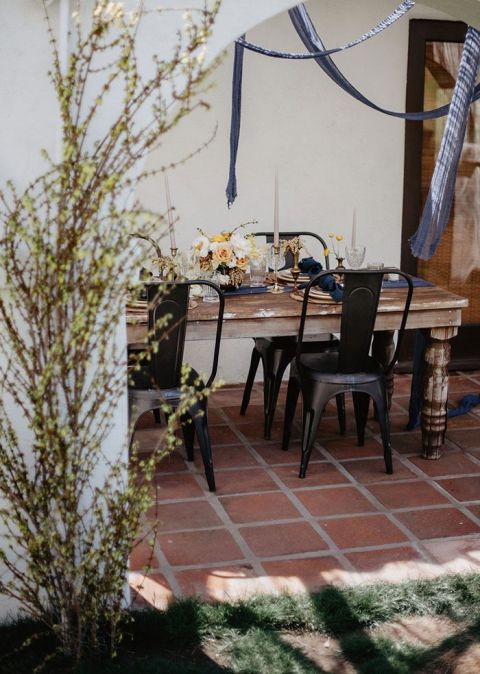 The reception style was influenced by the Southern California hacienda style of the venue! Tile floors and stucco archways created an intimate terrace for seating, while a rustic farm able and draped blue silks brought all the design elements together.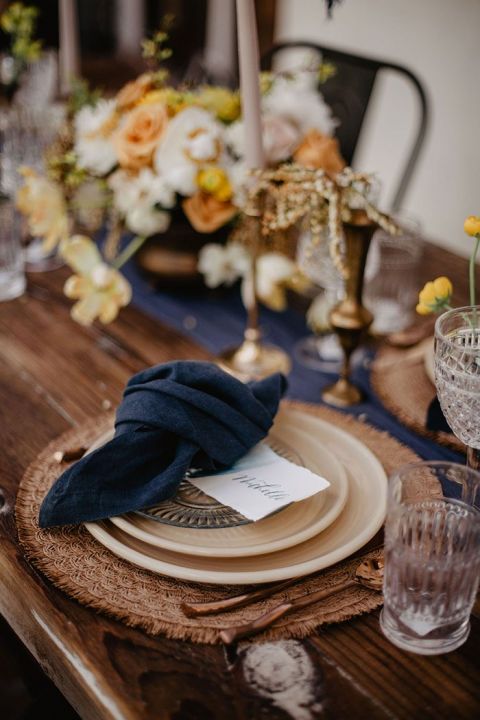 The textural place settings combined woven place mats, hammered copper flatware, and a mix of pottery and vintage glass. Blue linen napkins and a raw silk runner added rich touches of blue to the warm tones of the wood on the vintage farm table.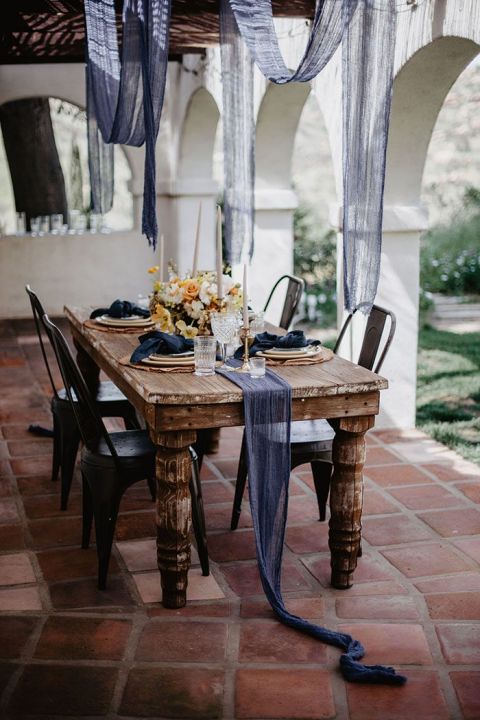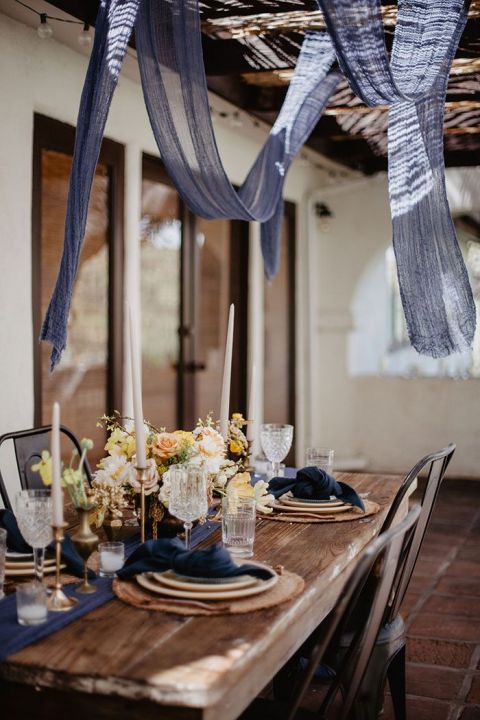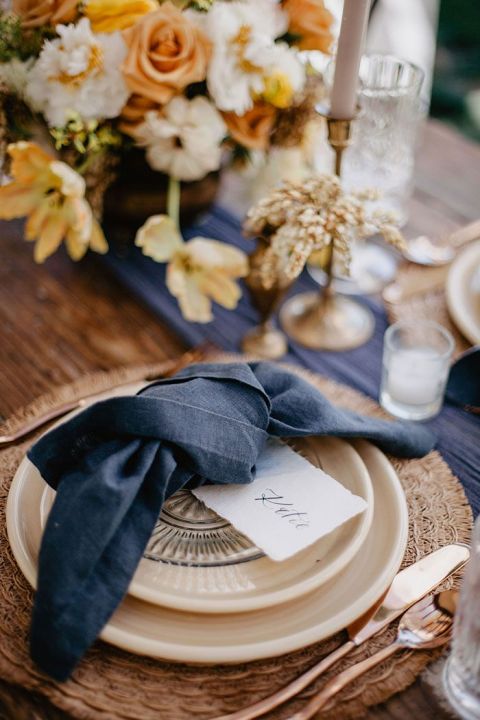 This colorful spread combines old school Spanish influences from the Southern California architecture of the venue with raw and organic elements for the perfect mix!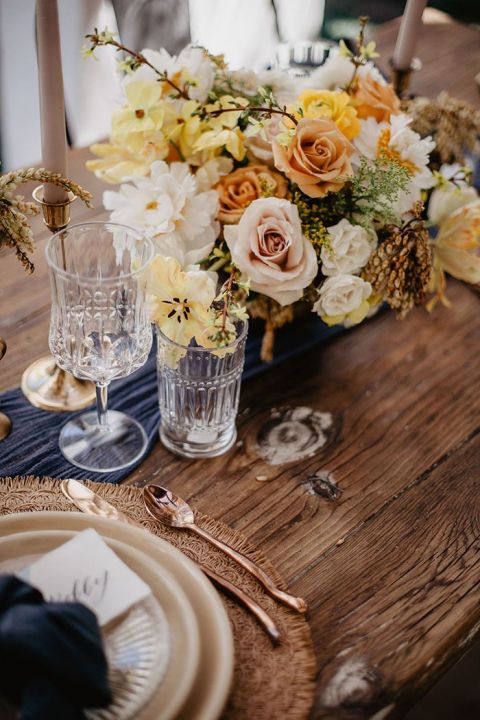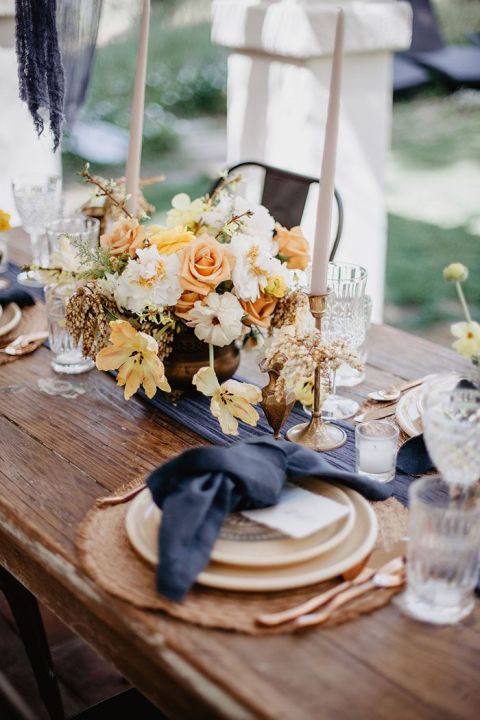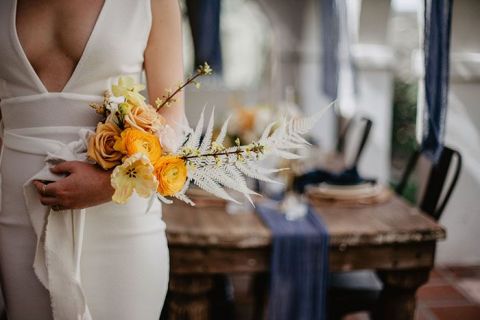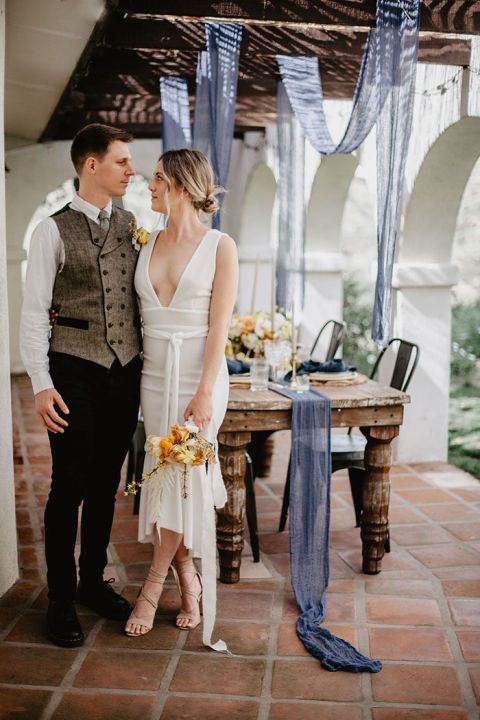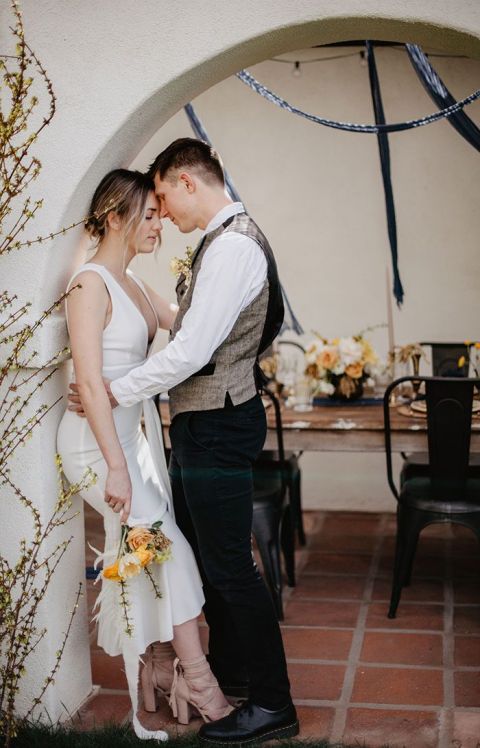 WEDDING VENDORS –
Photography: LPK Photo | Floral Design and Decor: Storylines Floral Co. | Little White Dress: White Fox Boutique | Calligraphy: Kelly Patrice | Bride and Groom: Erin Quinn and Jackson Quick
Blue and Yellow Forest Elopement with a Little White Dress