Experience a different kind of winter on a black sand beach in Iceland with today's bridal shoot, thanks to Callie Hobbs Photography at the Brumley and Wells Reckless North Workshop styled by The Wells Makery! Ethereal bridal gowns and rugged vistas played off of each other to visually stunning effect.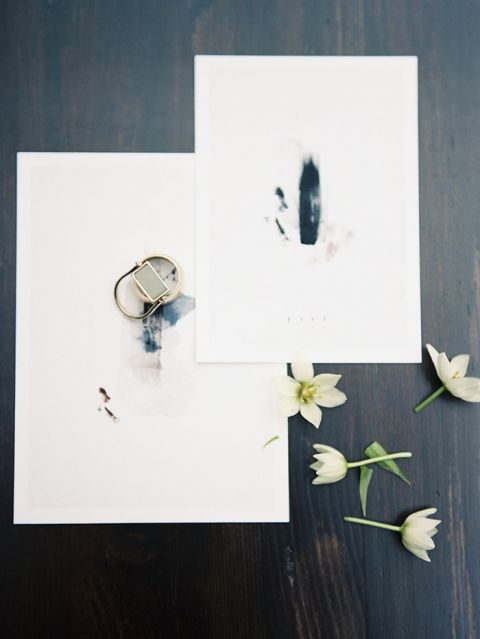 Black Sand Beach Bridal Shoot in Iceland
At its core, The Wells Makery designed the workshop shoot to celebrate the Japanese art of wabi-sabi. The ideology represents the ideas of imperfection and transience, captured in a strong visual style through asymmetric florals and flowing windblown portraits. The black sand beaches of Iceland served as a dramatic juxtaposition with the ethereal gowns in black and white from Leanne Marshall and Samuelle Couture, paired with hand tied blush and green bouquets from Shilo Floral. Craggy cliffsides, fog wrapped coastlines, and bare stretches of moss covered rocks showcased the unique and distinctive Nordic surroundings.
The minimalist styling continued to the reception space, where rustic industrial farm tables awaited. Natural silk runners from Seidenband added organic textures to the gray and black decor, punctuated with soft pink from ruffled peonies, carnations, and roses. Lightly deckled pottery place settings and linen napkins contributed to the earthy textures, set against black dipped flatware and brush stroke escort cards. 
PHOTO CREDITS –
Photography by Callie Hobbs Photography | Workshop hosted by Brumley and Wells | Styling and Stationery Design by The Wells Makery | Floral Design by Shiloh Floral | Bridal Hair and Makeup by Faces by Liz | Wedding Dresses by Leanne Marshall and Samuelle Couture | Silk Ribbons and Table Goods from Seidenband | Tableware and Jewelry from Fako | Gold Jewelry from Another Feather Jewelry | Modeled by Christine Chang and Bryndís Magnúsdóttir from Eskimo Casting
Black Sand Beach Bridal Shoot in Iceland