Apple pie trifle is the perfect addition to a festive holiday dessert table, and today's recipe pairs perfectly with a caramel cider whiskey smash! If you're in need of a last minute recipe to wow this Thanksgiving, these spiced caramel treats are sure to impress!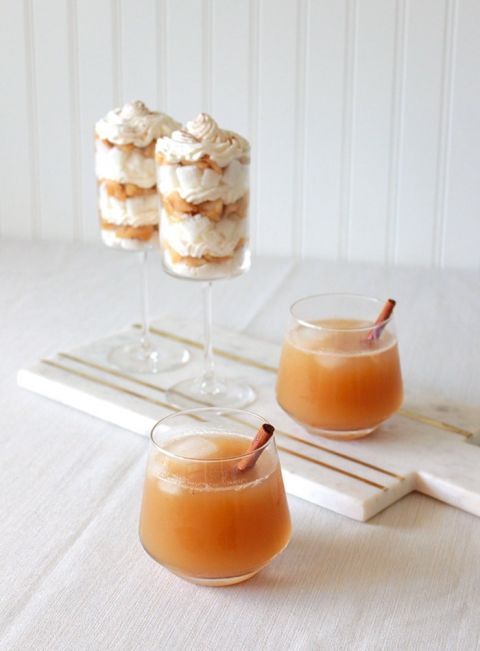 Apple Pie Trifle and Caramel Cider Punch
SET THE TABLE
Parfait Glasses | Cocktail Glasses | Marble and Brass Tray
APPLE PIE PARFAITS
INGREDIENTS
1/4 cup unsalted butter
1/2 cup granulated white sugar
1/2 teaspoon cinnamon
1/4 teaspoon nutmeg
3 large Granny Smith apples
Angel Food Cake – store bought or homemade
1 cup heavy whipping cream
2 tablespoons white sugar
1/4 teaspoon vanilla extract
PREPARATION
Peel and slice Granny Smith apples into small slices. In a small saucepan, heat butter and sugar over medium heat, stirring until golden brown and slightly melted. Add in apples, cinnamon, and nutmeg, and simmer together for 5 minutes, or until apples are cooked through and carmelized.
Let apples cool fully, at least 30 minutes. While they're cooling, prep the cake and whipped cream for assembly. Slice the angel food cake into small, bite-size cubes and set aside. Combine whipping cream, sugar, and vanilla in a chilled mixing bowl and whisk until stiff peaks form. For best results, put the mixing bowl and whisk into the freezer!
Layer ingredients into trifle glasses, starting with cubed cake. Spoon in apple pie filling, and pipe whipped cream to alternate, topping with cream and a sprinkle of cinnamon!
APPLE CIDER SMASH COCKTAIL
INGREDIENTS – per cocktail
1 oz whiskey
1 tablespoon caramel
4 oz apple cider
cinnamon and spices to garnish
PREPARATION
Heat cider and caramel in a small saucepan until the caramel has dissolved. I used our espresso machine's steam wand for a coffee house caramel cider, but the stovetop is perfect for mixing up large batches for holiday entertaining! Pour whiskey over ice and top with the caramel cider mixture, or serve warm for a cozy cocktail. Garnish with a cinnamon stick (or use left over caramelized sugar and spices from the apple pie for a decadent finish)!
Apple Pie Trifle and Caramel Cider Punch